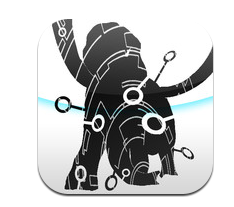 While Chinese copycats usually make more headlines, its important to remember that there are some amazing talents in China creating equally amazing work. A 19-year-old teenager, who goes by the name of Peakji, has already developed lots of excellent software, most notably Mammoth 4, an impressive mobile browser which won the top award at Macworld Asia.
As it was made by a senior school student, Mammoth 4 has a very distinctive design and user's experience. The interface of Mammoth 4 is so concise that you can only see a slide bar in the bottom. Most operations can be done by one finger sliding: switching tabs by sliding the bottom bar, reloading or dismissing tabs, visiting your favorite pages by sliding your finger up.
Mammoth has lots of interesting functions like private browsing mode, an ad-blocking feature, Twitter and so on. We talked to the prodigous young developer to find out more about him and his new browser.
---
How long did you take to develop the Mammoth browser?
---
The 4th series of the Mammoth browser was released yesterday. The series began last August. During the period, it kept updating rapidly. In order to guarantee the quality, every major version number is rewritten completely.

The functions of the first version is quite simple, just testing whether users accept the operation mode or not. So it took only a month to launch. The second major version (2.0.0) began to integrate a multi-tab system and launched by the end of 2010. The third major version formed a more complete style. But at that time, I was in my last year of high school. It released in March and it had a lot of flaws. After the collage entrance exam, I devote myself to the development of Mammoth 4. All the codes, designs, and images were reset. This took three months.
---
Why did you develop Mammoth 4?
---
The reason is quite simple. Just because I felt multi-tabbed browsing at the time was limited. There was a lot of room for improvement in user experience. So I treated myself as a user, and developed a browser from the angle of a user's demand. That is the reason why Mammoth is so welcomed widely by users.

From the market, there are three kinds of browsers: Native, third-party paid, and third party free. The native only has basic functions, not enough to serve enthusiasts. The third-party paid browsers are usually developed by small companies, lacking user experience. All depend on advertising, deeply damaging user experience and lacking in personality. So there is lots of room in the market for Mammoth.
---
What is the most outstanding function of Mammoth 4, in your opinion?
---
Mammoth 4 expressed my objective completely: convenient + smart + deep.

Convenient: At first many users are overwhelmed by the interface of Mammoth 4. But after a little adjusting, they will find the gestures are convenient. Traditional gestures request users to remember many actions, for example, draw a X or O to trigger corresponding actions. That's not only hard to remember, but also hard to use. However, the gestures design of Mammoth is based on "leading," that is to say, as a finger flipping, users can see the results, without having to learn learning complex gestures.

Smart: the managing of tabs is bothersome. So mammoth can analyze a user's preference to assist the actions of new, cover, turn off the page and other operations. Furthermore, Mammoth can acquire the area of a user's fingertip to assist in identification.

Deep: The layout of the main interface is extremely simple, almost completely transparent. But when users switch on the menu, they will feel the functions of Mammoth 4 seeing many options, functions, and the code editor. I think most people will like this feeling of surprise.
---
What are the shortcomings of Mammoth 4, in your opinion?
---
There are lots of shortcomings on Mammoth 4, especially the limitation of the core. Apple only allows the webkit core browser to launch on the app store. So I tried my best to optimize on the DOM layer. Efficiency in javascript and HTML5 support are still not perfect. Besides the technology, I obsessed over how to let light users enjoy the Mammoth browser. Sometimes too many functions will confuse or even bore the less demanding users. I do not want to give up on any potential user, so the structure of Mammoth will be further optimized.
---
To get an idea of how the Mammoth 4 browser works, check out the video demo below.