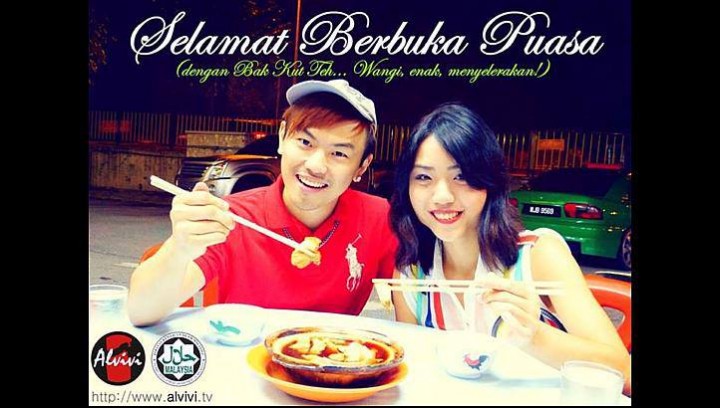 While more than a billion Muslims all around the world are celebrating the month of Ramadan by fasting, there are bound to be a few jerks wanting to ruin the occasion from time to time. Yes, we're talking about Malaysia's Alvin Tan and Vivian Lee – infamous for their sex blog – who are in hot water over an offensive Facebook post aimed at Muslims during this holy month.
Tan and Lee have been summoned by the Malaysian Communications and Multimedia Commission (MCMC) for further investigation about the offensive photo. That image depicts the couple wishing Muslims a happy 'breaking fast' while enjoying a pork dish called Bak Kut Teh, complete with a halal logo on it. Of course, Muslims avoid pork, and it's definitely not halal food. The caption says:
Allow us to introduce our way of inculcating the the spirit of 1Malaysia and that is by exchanging food between the races in Malaysia during this holy celebration. The right to enjoy local delicacies should cross the boundaries of race and also religion. To Muslims, happy breaking fast and Salam Aidilfitri – Your friends, Alvin and Vivian.
The post quickly went viral when it was published on Thursday – and condemnation came shortly after. In response to this, Facebook has deleted the corresponding account. Several Malaysian Muslim NGOs are now asking the government to review the Malaysia Bill of Guarantees, that stresses no internet censorship.
Alvin and Vivian have since apologized to the public for their stunt. It is unclear if the couple could face any punishment after the MCMC investigation today.
Do not feed the trolls
I can not help but feel that this is just a stunt by the couple to gain public attention. Before this, the couple gained public notoriety with their sex blog last year. Because of it, Alvin got suspended by his university for one semester and had his scholarship revoked. The blog was shut down due to family pressure, claim the couple.
That all happened back in October. Just three months after that, the couple started their own YouTube channel to discuss sex. Despite the public outrage in Malaysia, within that controversial timeline the couple got invited to do interviews and became the center of attention for quite a while.
Fast forward six months and the duo are back with another controversy. If the pattern fits, then you can definitely expect them to act up again in the near future. And when that happens, if you really think that these guys are just trolls seeking attention, then my advice is to simply ignore them. If they post more outrageous things like killing Santa Claus, just ignore them. They love the spotlight, so there's no need to give it to them.
If they create good content that's interesting and relevant to sexual health – or really sexy – and you like it, then it's all good. It's okay to be famous for that. But if their weapon of choice is to stir up controversy like this, then ignore them. Don't feed the trolls.
Compared to what a poor Indonesian man suffered last year because of his atheist-themed Facebook post, I think Alvin and Vivian are lucky to get away with issuing a casual apology.
(Editing by Steven Millward)