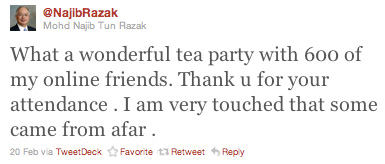 Malaysia's Prime Minister, Najib Tun Razak is highly popular on social media. He has more than 570,000 Facebok friends and 80,000 Twitter followers.
The Prime Minister went the extra mile with a tea party where 600 Facebook and Twitter friends turned up. Judging by the tweets exchange on Razak's Twitter profile, the tea party seems to be a success. Despite his busy schedule, Razak takes time to tweet and update his social accounts himself.
"I have to keep abreast with modern communication in keeping with the changing world and Malaysians, who are adopting a new way of life in communicating with one another," he said.
Besides conversing with fellow Malaysians on Twitter, the Prime Minister also tweets about his travel journey and thoughts. Kudos to @NajibRazak for his use of Twitter.
In Asia, we are witnessing more politicians and government bodies leveraging on social media to engage the public. Last month, Taiwan's President Ma Ying Jeou launched a Facebook page as an effort to connect with Taiwanese youths through digital channel. The page has so far helped the President connect about half a million Taiwanese on Facebook. In India, the government leveraged Facebook to educate and generate awareness for its Census 2011 and Expenditure plan.
On the flip side, social media can turn nasty for politicians as impersonators snatch Twitter handle and "tweet on their behalf".
Via Bernama