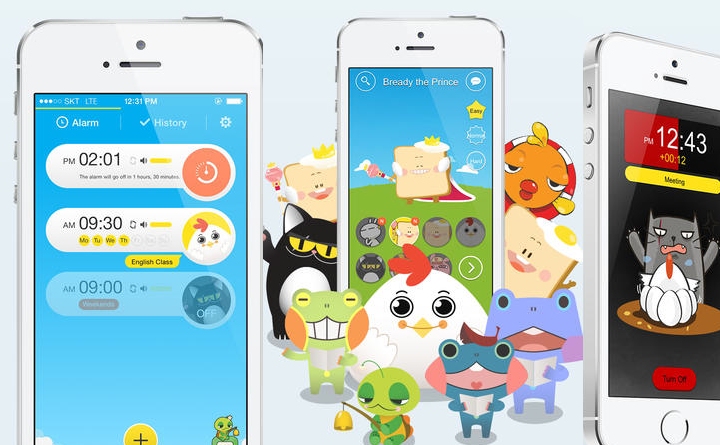 Seoul-based Malang Studio, maker of the cutesy AlarmMon app, revealed today that the startup has secured KRW 2 billion, which is US$1.9 million, in funding to grow its app development business. The investment comes from Yello Mobile, a larger Korean app startup. It's not revealed how much of a stake in Malang Studio this entails, or if it represents an acquisition.
Yello Mobile has acquired several startups in the past as it grows its app empire. One of its most well-known apps is Goodoc, which helps users book an appointment with a doctor.
AlarmMon (pictured above) is a free alarm clock app enlivened by a host of colorful, cartoony characters that the startup created itself. Extra characters can be bought as in-app purchases. Malang Studio claims over seven million downloads for the alarm app on iOS and Android, and it has launched with some localized cartoon characters in other countries such as China and Japan.
(See: Love origami? This mobile game takes the ancient Japanese art into the 21st century)
The studio is working on a major update to AlarmMon that will add in a dedicated store and throw in some globally known cartoon characters such as Hello Kitty. The team is also working on creating a game out of its self-developed characters in conjunction with a Korean game developer called FunnyG – it's like the reverse of Angry Birds, where game characters turned into a cartoony franchise.
Malang Studio was recently one of four Asian startups incubated at BlackBox Connect in Silicon Valley.