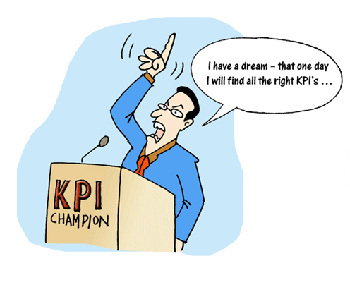 It's funny how KPIs can become so confusing when it comes to measuring performance on an individual level. Say for example, $10 million could be clear as an organization sales target. But in contrast, it would not be so clear for a sales person. It could motivate the sales team to reach that goal but often it doesn't communicate exactly what a person has to do individually in order for the team to to hit that $10 million target.
At a recent startup conference at Ho Chi Minh, Vietnam, I had the privilege to learn from some very experienced entrepreneurs. One of them is Pawoot Pongvitayapanu who runs Tarad.com, and he shared a little bit about his experience of having his company acquired by Japanese e-commerce giant Rakuten.
Rakuten brought much discipline into his company. He mentioned repeatedly that one of the most important lessons he learned from Rakuten was to set key performance indicators (KPI) and make them understandable and actionable at individual level. So let's take that $10 million sales target as an example. This organization target could be broken down into groups and then down to an individual level. For example, if John is set to hit $300,000 worth of sales, then what would it take for him to hit that target? To illustrate my point, I have assumed some numbers below:
His deal/close rate is five percent
The target per deal is at $10,000
Each work day, he can speak to a maximum of three potential clients
According to the figures above, we can calculate that each month John can pitch a maximum of 60 times. So if he does that, he should be able to achieve $30,000 worth of sales (60 x 5% x $10,000). That means John should be able to hit his sales target in ten months if he works hard enough. With the figure broken down to an individual level, the numbers have now become actionable.
John now knows he is required to make a total of 600 sales pitches to hit his $300,000 KPI for the year. Anything above 600 sales pitches will give him a better chance to outperform his KPI. Most importantly, John can now see in more tangible terms that the figure is achievable.
Sometimes, goals are set unrealistically and it could be mathematically impossible to achieve them. For example, if John's KPI is $500,000, then it's practically mathematically impossible that he could hit the numbers. Based on his statistics, John can hit a maximum of $360,000 of sales in a year. Of course, along the way his closing rate or sales total could go higher, but from a management point of view, it's better not to account for those chances.
Lastly, from a startup CEO point of view, breaking down KPIs to individual level can help you understand if you have enough manpower to hit the organization's KPIs, and that's a good way to avoid over-promising and under-delivering to your shareholders. The same principle can be applied across all kinds of KPIs which you might be measuring. Good luck!
From all of us here at TechInAsia, we hope you have a Merry Christmas, and that you achieve all your KPIs in 2013!
[Image credit: EPM Review]