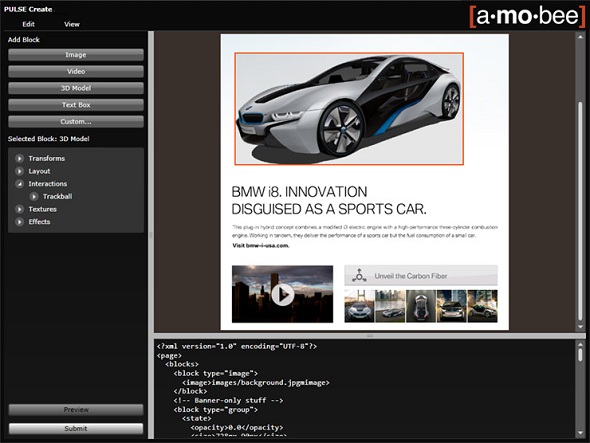 Amobee, a US-based digital advertising company owned by SingTel, has launched today PULSE Create, an ad maker platform that lets advertisers and publishers create 3D and rich media mobile ad campaigns. The tool will be made available to all advertisers and agencies.
PULSE Create is integrated with Amobee's ad serving and yield optimization platform, called PULSE for Publishers. This gives publishers the ability to track the performance of rich media ads served on their sites or apps. Ads generated by the rich media ads creator will be MRAID-compliant.
Amobee's new service is an extension of the technology it acquired from Adjitsu, a former business unit of Cooliris that enables publishers to display 3D ads.
PULSE Create occupies the same space as 2359Media, a Singapore-based startup which owns MobDis, a rich media ad creator. PULSE Create might even have an edge with its 3D ads feature and integration with its platform for publishers.
This new development means that SingTel is competing directly with its portfolio company. In January 2011, the telco's investment arm, SingTel Innov8, led a Series A round in 2359Media. Don't be surprised if consolidation takes place.