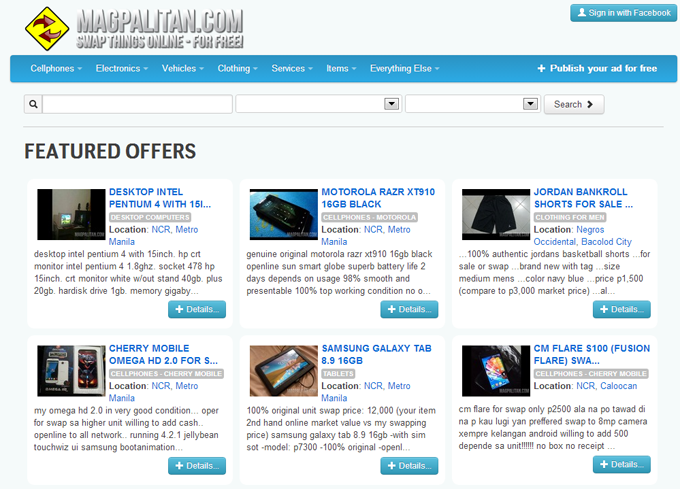 E-commerce has come to the Philippines in many forms. There are classified ads sites like Sulit and AyosDito, daily deals sites galore, and even Rocket Internet's Zalora and Lazada. Now a new startup, Magpalitan, enters the fray with a different concept: swapping.
Magpalitan allows users to swap items they own for something else from another user. It means that users do not have to pay out money to obtain another item, though they have the option of specifying a swap plus a sum of cash if they wish.
Prior to the existence of Magpalitan, swapping or trading-in was a trend slowly emerging at brick-and-mortar shops – particularly in gray-market gadget stores – and on online classified ads sites. So instead of paying cash for an item, people sometimes have the option to offer another item of a similar value. But there wasn't a specific platform dedicated to swapping, at least not until Magpalitan was born in the Philippines.
Communication matters in trade
Magpalitan founder Krzysztof Kaczmarek says that over time he was able to analyze how Filipinos behave in when purchasing online. He adds:
People are not eager to transact online, because features like online payments or free delivery don't create any value. The most important thing is communication, which leads to meet-ups, and this is the place where actual transactions take place. When I started to analyze the content of existing advertisements [in several classified ads sites], I found out that people often are very eager to barter. It gave me the idea to separate this content, and design a different user experience.
Users who are interested in swapping an item can simply go to the website and post what they have for swap and what they want for it in exchange. The site does not require any registration and users don't have to post the price. Krzysztof admits that valuation of the item can be tricky. For some people, the item they list might be worth nothing and they could just throw it away or give away, but for others this item might have real value and they have a fixed value in mind. The idea is to make swapping easy to do and remove all possible friction. Krzysztof notes that site sign-ups, especially when it's quite long, make people shy away from using a new site.
While users do not have profiles because they don't need to sign up, Krzysztof believes that people will use the platform because it helps to communicate and collaborate with other users to improve each other's standard of living. He adds:
This is a different approach. We will never be a transactional marketplace. We will be always focused on a communication rather than on the on-site transactions.
New form of e-commerce?
Started in January this year, Magpalitan is still young and has room to grow. But Krzysztof shares that in November alone, it had about 30,000 unique visitors. It has also tracked an average monthly growth of 20 percent.
To date, there are more than 6,000 offers on the site; 60 percent are in the gadgets and scooters categories.
So is this e-commerce? Krzysztof believes so. Albeit a form of online shopping that it is localized for the Philippine market. He says:
I'm not trying to disrupt something, I'm trying to solve real problems of real people by building a new area of e-commerce, grow it and build awareness that something like this exists. Barter exchange happens everyday in the offline world and Magpalitan is an attempt to move these behaviors to the online world.

We are not targeting the small percentage of people with credit cards, we are targeting people with a little less money, who have their own needs and want to collaborate with other people to satisfy those needs.
Currently, Magpalitan is self-funded and doesn't have a revenue stream. Krzysztof believes it's important to grow and build awareness first. He says so far that "content grows attention."
Aside from swapping tangible items, he's also looking into swapping services for physical goods, or vice versa. "We want to introduce it and show people the opportunity in swapping their time and skills for products or services they need," he says.
(Editing by Steven Millward)