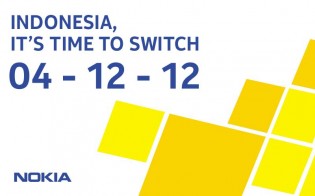 Today we received the picture on the right from the folks at Nokia which teases an upcoming December 4th event in Indonesia, where Nokia is going to launch its Windows Phone 8 flagship phones, the Lumia 920 and 820. The picture tagline sports Nokia's recent Time to Switch campaign which is targeted toward marketing its newest flagship Windows Phone 8 handsets.
A Nokia representative tells us that consumers will be able to pre-order the devices later this week. There are no further details about the prices yet, but as usual, we can expect them to be pricier here in comparison to the US price because of the country's import tax.
Nokia would be the second maker to launch Windows Phone 8 handsets in the country. HTC released its Windows Phone 8 handsets, the HTC 8X and 8S, earlier this month. China might also see these Nokia handsets too, along with HTC and Huawei who are expected to launch Windows Phone 8 devices in December.