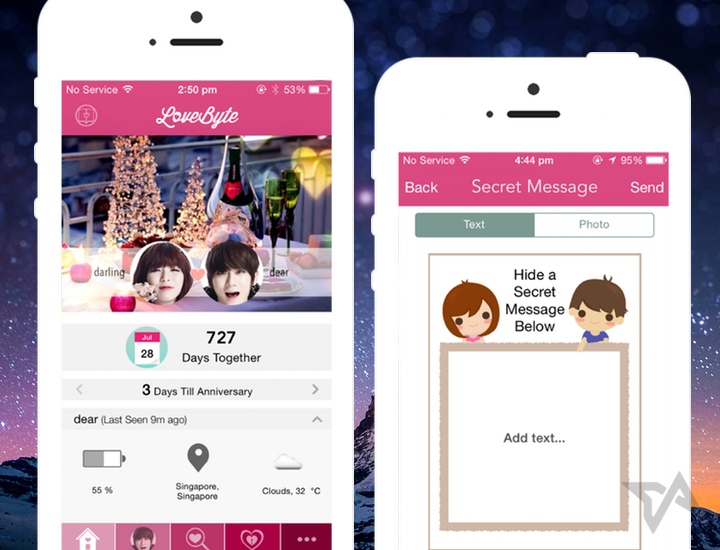 Have you ever had a misunderstanding with a partner because your phone's battery was dead and you were as uncontactable as if you'd been transported in a time warp back to 1759? The couples messaging app LoveByte sees that as a real problem, which is why a major v2.0 update on iOS has added in a feature that lets you see your loved one's battery level – so long as they give you permission to view that.
The refreshed LoveByte app has also added in location and weather information for your partner – again if they opt to share it. On a less intrusive note, the Singapore-made app now has secret messages like Snapchat, shared lists, shared calendars and reminders, and a revamped couples' timeline that's rebranded as "Our Story."
Amelia Chen, the CEO and co-founder at LoveByte, says the app now has 700,000 registered users, of whom 30 percent – that's 210,000 – are monthly active users. It seems to be slow progress for the two-year-old app in the face of rival apps such as Between. More chat apps in this lovey-dovey niche keep popping up, such as Avocado and You&Me. The main challenge is that most couples stick with the regular messaging app that they use for everyone else.
See: Line revenues spike 25% to $177 million as messaging app shotguns towards IPO
LoveByte makes money from its Discover feature, which recommends nearby places where couples can go out on dates. It does so by slotting in some advertisements to that section. It also has in-app purchases for sticker packs, as pioneered by Asian messaging apps such as Line and WeChat. Chen explains that the earlier attempt at an online gift store within the app didn't work out as it wasn't very scalable. "It requires a lot of product management, follow-up, fulfillment, pre- and post-sales support, and was quite resource-draining for our lean, four-man team," she adds.
LoveByte is free on iOS, where it has updated to v2.0; the Android version will be refreshed a few months later.