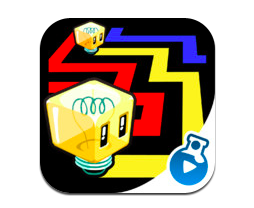 Thailand-based game studio Pocket Playlab has recently released a fun puzzle game for iPhone called Lost Cubes. The folks over at Kotaku rightfully points out that the title is pretty much a clone of Flow Free, in that you have to connect multiple cube pairs on a grid without connecting lines crossing one another. So if you like that puzzle game, you'll be sure to like this as well.
I've been giving it a light trial run over the past couple of days, and Lost Cubes is a fun casual title. At times it's a little bit too casual, as the early stages are pretty easy. But eventually the puzzles get a little bit trickier, and require a little bit of creative thinking in order to solve them.
The level select is in the style of Angry Birds, as is the scoring system which awards you one, two, or three stars based on your point total for that round. And while the folks at Pocket Playlab aren't going to win any points for originality in game design, the artwork for Lost Cubes is pretty solid as you can see the from trailer and screenshots below.
I understand that Lost Cubes is the studio's initial effort at creating a first party title. It has previously worked on third party games, and you can browse its portfolio here.
The game is free to play, but is supported by ads. Pocket Playlab boasts that in the first 24 hours after its release that more than a million levels were played on Lost Cubes. It's doing respectably well in the US app store, ranked fourth in the family category and fifth among puzzle games.
If you'd like to check it out for yourself, you can download it now over on the app store.