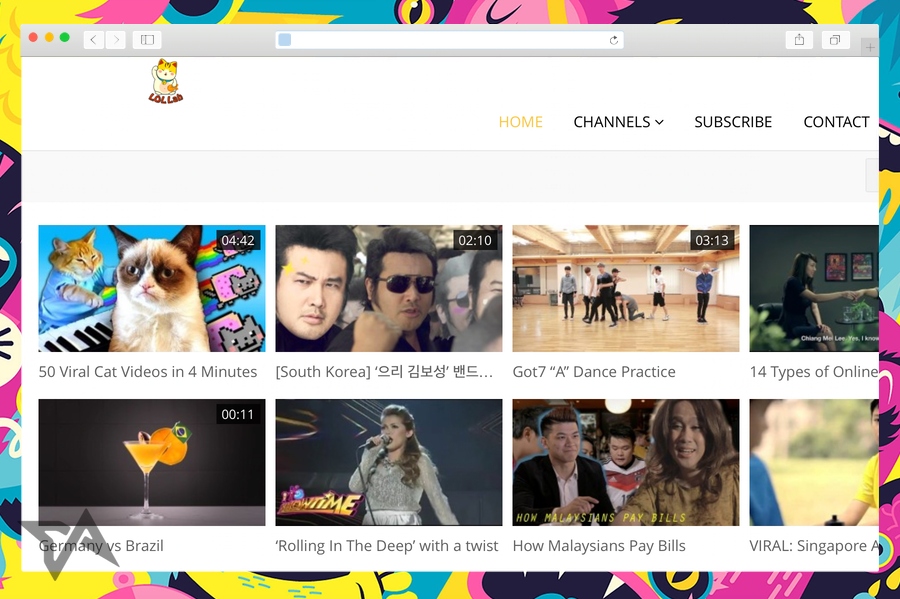 Viral video fans across Asia have a new site to turn to for a curated batch of the latest lulz-worthy vids. LOL Lah hand-picks the best videos on YouTube from across the region and puts them into useful categories like animals, music, and sport.
LOL Lah's creator is Singapore-based Google employee Tamara Sanderson. She's also the maker of TimeAway, an app that lets parents monitor and control their kids' smartphone or tablet usage. "I think subconsciously I may have created LOL Lah in order to give back to the teenagers that I've now restricted via TimeAway," Sanderson quips.
Inspired by US-based Devour, she wanted to make something similar for this region. Sanderson adds:
While developing [TimeAway], I started to think about my own internet habits and usage. When I'm online, I want curated content – sites that have already found the best parts of the web to share, whether it's educational – i.e., Ted Talks, Brain Pickings – or more for amusement, like Reddit or Buzzfeed.

As a foreigner living in Asia, I tried to find a hub for pop culture across Asia, but I couldn't find much that spanned the region. That's why I created LOL Lah — I wanted a place where people could go to find regional memes, rather than only global memes.
See: Darma is a smart cushion that corrects your posture and reminds you to meditate
Being a good Googler, Sanderson sources all the videos on LOL Lah from YouTube. She explains to Tech in Asia that she uses YouTube Trends, sorted by country, and also scours subscribed channels within YouTube to find hot new videos. Plus she scans viral video blogs from around the world. "I've also teamed up with a social media guru in the Philippines who is helping me find viral content," Sanderson explains. She adds:
It's interesting to see geographical favorites – the Philippines loves basketball clips and the Voice Kids, Singapore is all about Buzzfeed-esque comedies, and India is full of Bollywood favorites. We are one region, but very unique on a country by country basis.
LOL Lah is a pet project, Sanderson says, but she monetizes it with Google Adsense. "If I have it my way, I'll keep putting new pet projects on the web every couple months. If it makes a few people smile every day, it's worth it."
Which viral videos from Asia are making the Googler giggle this week? "I've been getting a kick out of this Chinese kid doing the most boring things in an epic way. Last week, it was putting on his pants (embedded below) and this week it's eating grapes." She's also a fan of the Korean baby that's got serious moves (also embedded below).