Indonesian e-commerce store Lojai is looking to get into the travel industry as early as March by adding an integrated booking mechanism for airlines, trains, and hotels. This is an interesting move because we don't usually see B2B B2C e-commerce platforms such as Lojai offering travel products on its site.
Described by CEO Agus Tjandra as an Indonesian online department store with the most complete product offering, with everything from electronics to motorcycles, fashion to books, Lojai is now looking to complement that range with travel products in March. The website will be integrated with 11 airlines, Indonesian trains, and hotels worldwide – plus they plan to sell tour packages as well.
Agus noted that another strong point for Lojai 1 is that it offers the most complete zero percent online installment payment system with credit cards from 11 local and international banks like UOB, ANZ, HSBC, and CIMB Niaga. They are looking to add Danamon as well. From the looks of things, I think that Lojai's range of installment payment banking partners could be the most complete in the country, with other e-commerce sites averaging two to three banking partners for the same kind of payment method.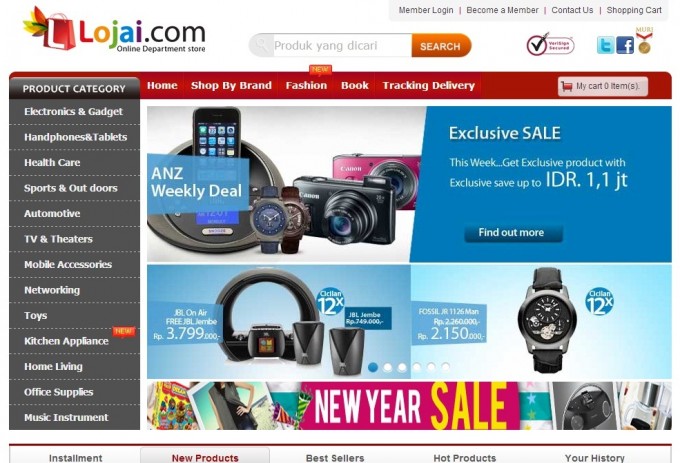 By offering the credit installment payments as far back as 2008, Lojai (then known as PasarKredit.com) was the first to do so in the country. The company has recently used protective measures to combat possible abuses or misuses, including using 3D secure codes. The team says they are one of the first Indonesian e-commerce sites to use such protective measure.
Agus explained that 75 percent of its customers made their payments using credit cards, with 90 percent of them selecting the installment payment method. Only 10 percent made their purchase using the cash-on-delivery method.
2012 was also a good year for the company, as it experienced a traffic increase of around 300 percent. This year, in addition to bringing on travel products, Lojai plans to offer a three-year installment payment option. At the moment, the company offers installments that stretch to just two years. They are preparing to expand to other Southeast Asian countries too in the future, so stay tuned for that as well.
---
Lojai is Portuguese for "shop".