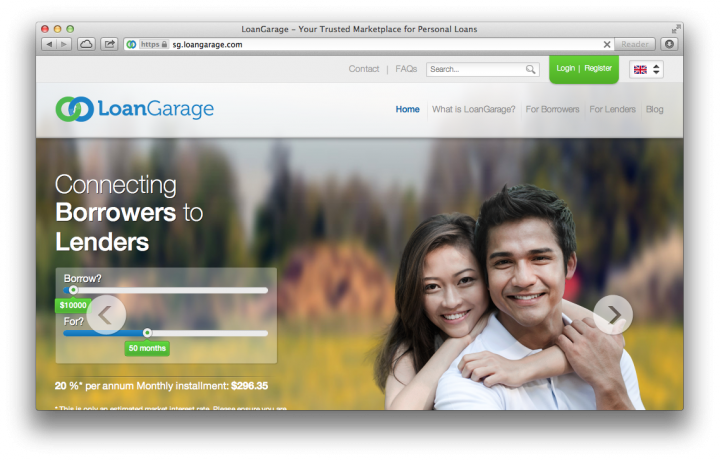 Singapore-based Plutus Software, the company behind online personal loan startups Loan Garage and KreditAja (the Indonesian version), revealed today that it raised an undisclosed six-digit pre-series A funding round. The team has also hired a very experienced new CTO.
Loan Garage CEO Aidil Zulkifli says that the startup originally wanted to do a series A funding round but decided against it as they wanted a higher valuation, and so they did a small "bridging" round instead. The newly raised cash will complement the $290,000 fund raised in the seed round.
Right after closing the newest funding deal, the team also welcomes a new CTO in the form of Jagannathan Janagyraman. He has ample work experience, previously holding technologist positions at property portal PropertyGuru (head of engineering) as well as Yahoo (head of engineering for Southeast Asia and India). In his new role, Jagannathan will help achieve LoanGarage's aim of becoming the "Kayak.com for personal finance products." Aidil wants to drive LoanGarage and KreditAja to become big-data driven aggregators, meaning they collect data that will be relevant for their future product lines and offerings.
What people use their money for
LoanGarage has been making aggressive moves recently as it expanded to Indonesia in May after beta launching the Singaporean site six months earlier. Aidil says what's interesting is the data that comes through to them about their users.
He says that for the Singapore market, people "generally borrow to consolidate debt, which implies that the average household debt is relatively high." For the Indonesian market, the main purpose is "really to pay bills or advance one's education, which is quite consistent with the theme of an emerging market."
Aidil breaks it down to 45 percent of loans made for debt consolidation, 35 percent for education, 5 percent for medical, and the other 15 percent for other purposes including business.
(Editing by Steven Millward and Paul Bischoff)