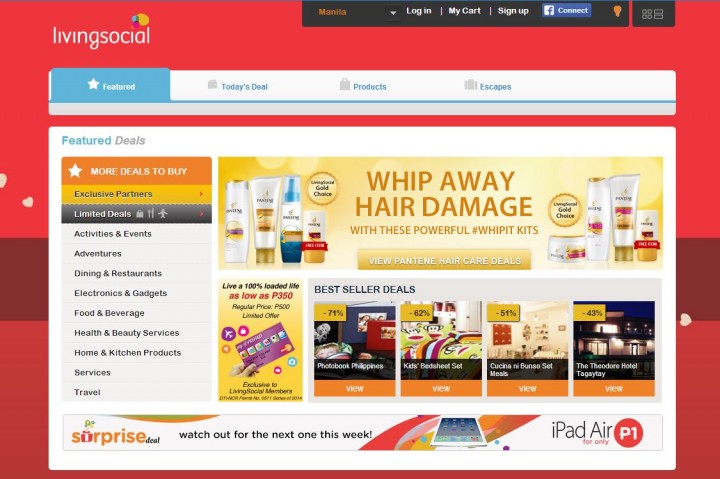 Amid tough competition in the daily deals sector, LivingSocial Philippines revealed this week that it has about 2.4 million registered users as of the end of last year. It sees around four million searches lead to its site on a monthly average.
LivingSocial Philippines managing director Jojo Anonuevo attributes this to the quality of deals and partners it brings to its platform. Specifically in the Philippines, its intent is "to have as broad a base of consumers as possible, offering the right price points." He adds:
We have consumers that come back to our website several times a week. Everytime they come back, we need to re-engage them. There's got to be something new for them to think that it's not just a static website. The merchants that we have is very critical in defining quality.
The deals site is up against strong local competition such as MetroDeal, CashCashPinoy, and Groupon Philippines. [UPDATE 1: Anonuenvo tells Tech in Asia that it no longer positions itself as a deals site that just sells discounted offers. "We've moved beyond this especially with big brands like Unilever where we market their products online without discounts."]
The merchant strategy
LivingSocial insists it's selective in partnering with merchants. Anonuevo says they are very particular with ensuring that there are no fake products on its platform. Anonuevo says:
Our strategy is to partner with top brands from Unilever, Samsung, Canon, P&G, who do not want their products to be sold alongside fake goods. Therefore, our strategy is to focus on selling top caliber products and services while providing the best customer service.

You should also note that there are merchants that we no longer do business with due to issues with them such as high [level of] customer complaints.
Email is not dead
LivingSocial finds that customers' standards are continuously changing. Anonuevo explains that when they started, consumers were happy with 50 percent discounts. Now, as a daily deals site, it also finds the need to be as quick as possible in providing new deals and in communicating with customers. "You have to keep on finding ways on improving the whole consumer experience," he says.
It offers three channels of communication for customers – through phone, email, and live chat. Email remains an important channel for the daily deals company as it sends around 40 million email messages to its Philippine consumers every month. "Users who engage with us via email have the higher chance of buying," says Anonuevo.
Tech in Asia has reached out to LivingSocial to get information on its annual revenue. We will update this article once we hear from them. [UPDATE 2: In a follow-up correspondence, LivingSocial says it's unable to disclose its revenue]
LivingSocial acquired Ensogo in 2011 to further its presence in Asia. Ensogo, which is present in Thailand and the Philippines has carried the LivingSocial brand since.
(Editing by Steven Millward)