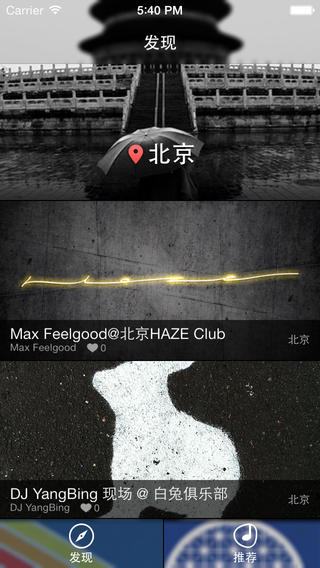 Electronic music fans can be pretty picky about their DJs, and keeping track of who performs where can be a hassle, especially for newcomers to a city. For frequent club goers, choosing a destination for the evening often depends largely on the type and quality of music being played.
Beijing-based Bobamusic aims to relieve this decision-making pain point with it's new app, which takes the name of its company. Opening the app reveals a selection of local clubs and streaming sets by DJs who have recently played at the listed venues. This gives users an idea of each club's sound before they decide which one to go to. Right now, the app is available in a handful of cities worldwide, but the most complete listings are in Beijing, where the company was founded.
Bobamusic is still in beta, but founder Libby Zhou says many more features are in the works. Right now, the app doesn't list many upcoming shows, but that will be a major selling point if they can manage to make music previews a permanent function, giving clubbers the option to scroll through and listen to all the all the shows taking place in their city before they hit the streets.
The app is in Chinese, but it's fairly language agnostic. The UI is simple enough that anyone can figure it out.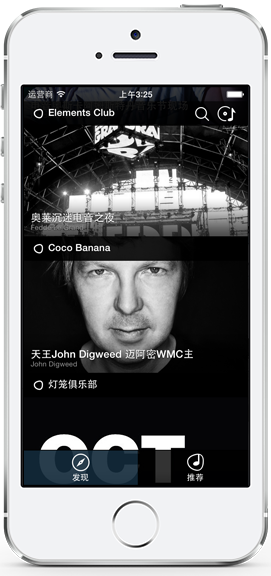 Zhou says she and some of her team members have over 10 years experience working with major brands and venues in China. The staff is made up of "music lovers, DJs, geeks, show producers, and music promoters." They've received investment from some of their former partners in the industry as well as some angel investors, but Zhou didn't disclose any specifics.
In Beijing, the app definitely has the potential to gain traction. The weather is cold, entrance cover charges can get high, and nightclubs aren't centralized at a single location, so picking a place often means staying there whether the music sucks or not.
The biggest challenge, however, will be consistently curating all the shows, venues, and music tracks week by week. That task in itself is a full-time job in each city, so Bobamusic might be spreading itself too thin with a global launch. At the moment, there's no option for users or club staff to add listings themselves, so it's all up to the Bobamusic team to make sure they don't miss anything.
Bobamusic is available on iOS, and an Android version is coming in January.
(Editing by Josh Horwitz)