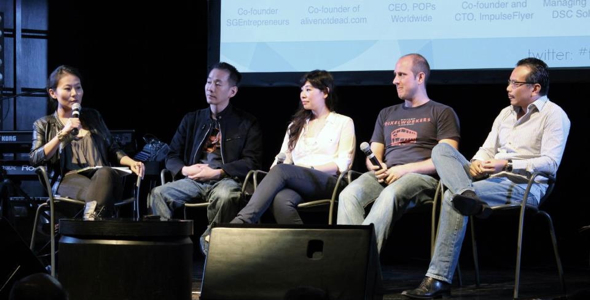 Inspired by TechCrunch's list of the best annual tech startup events in Europe for 2013, we attempt to do the same for Asia here.
However, we are not just focusing on events that have been happening annually. The technology startup event and conference scene in Asia is active, but still sees less activity when we compare ours to the scenes in North America and Europe. We thus try to note all the interesting events that are of mid-size and above. We are disregarding small group monthly meetups for now (there would be too many to list).
Big thanks to Steph for helping me with this list and Albert for contributing as well.
There are still many events we know will happen, but they just have no dates fixed yet. So bookmark this list as we continue to update it with new info.
We can make this list comprehensive with your help! If you see any major event missing, please drop us a note. The startup community will be grateful to you for your help, as will we.
Here we go:
JANUARY
Startup Weekend, Dhaka, Bangladesh, Jan 10-12
Barcamp Yangon, Yangon, Myanmar, Jan 19-20
TEDX SapporoSalon, Sapporo, Japan, Jan 19
TEDX DLSU, Manila, Philippines, Jan 25
Barcamp Mandalay, Mandalay, Myanmar, Jan 26
MaD Asia, Hong Kong, Jan 25-27
Lean UX Week, Singapore, Jan 25-27
Startup Design Week, Singapore, Jan 25-27
Design & Thinking, Ho Chi Minh city, Vietnam, Jan 26
FEBRUARY
TEDX Tokyoyz, Tokyo, Japan, Feb 2
The Entrepreneurship Summit 2013, Mumbai, India, Feb 2-3
Startup Weekend, Tokyo, Japan, Feb 8
TEDX Jaipur, Jaipur, India, Feb 10
Meta Refresh, Bangalore, India, Feb 22-23
BarCamp Angkor 2013, Angkor, Cambodia, Feb 23-24
BarCamp Hong Kong, Hong Kong, Feb 23-24
FailCon India, Bangalore, India, Feb 23
TEDX Yankin, Yangon, Myanmar, Feb 23
The Digital Commerce Summit 2013, Makati City, Philippines, Feb 27-28
beLAUNCH Tokyo, Tokyo, Japan, Feb 27
TEDX Singapore, Singapore, Feb 28
MARCH
Startup Weekend, Ahmedabad, India, Mar 1-3
Founder Institute Hanoi, Ha Noi city, Vietnam, Mar
Startup Weekend, Perth, Australia, Mar 8-10
WebSparks 2013, Bangalore, India, Mar 9
TechCamp Phnom Penh, Phnom Penh, Cambodia, Mar 13-14
HelpLearn.Asia, Singapore, Mar 13-14
DEMO India, Bangalore, India, Mar 20-21
Startup Weekend, Mumbai, India, Mar 22-24
Singapore Lean Startup Machine, Singapore
ICT Business Summit 2013, Singapore, Mar 28
APRIL
Startup Asia Singapore, Singapore, April 4-5
MAY
beLAUNCH, Seoul, South Korea, May 1-2
TEDx Sydney, Sydney, Australia, May 4
Global Mobile Internet Conference BEIJING 2013, Beijing, China, May 7-8
Failcon Ho Chi Minh, Ho Chi Minh city, Vietnam, May
CHINICT, Beijing, China, May 20-21
BarCamp Battambang 2013, Battambang, Cambodia, May 25-26
JUNE
AngelHack Singapore, Singapore Jun 1-2
Crowdsourcing Week, Singapore, Jun 3-7
Echelon, Singapore, Jun 4-5
JULY
Barcamp Saigon 2013, Ho Chi Minh city, Vietnam, Jul 5-6
Viet Youth Entrepreneur Bootcamp, Ho Chi Minh city, Vietnam, Jul
The Fifth Elephant Conference, Bangalore, India, Jul 27-28
AUGUST
Cartonama Conference 2013, Bangalore, India, Aug 24
Ideas.inc 2013 Demo Day, Singapore, Aug 30
SEPTEMBER
TechSparks, India, Sep 14
JSFoo, Bangalore, India, Sep 19-21
OCTOBER
Techventure 2013, Singapore, Oct
FailCon Singapore, Oct
Sparxup, Indonesia, Oct
Hack2Hatch, Philippines, Oct
#TechStartupJobs Fair Singapore 2013, Singapore, Oct 28
NOVEMBER
Startup Weekend, Ho Chi Minh city, Vietnam, Nov
MobiSparks 2013, India, Nov 17
Vietnam Internet & IT 2013, Vietnam, Nov 20-23
Droidcon India 2013, Bangalore, India, Nov 28-30
DECEMBER
Vietnam Startup Conference, Ho Chi Minh city, Vietnam, Dec
TEDxWomen, Dec
Image: Gwen moderating at FailCon Singapore 2012. Credit: Terence Lee