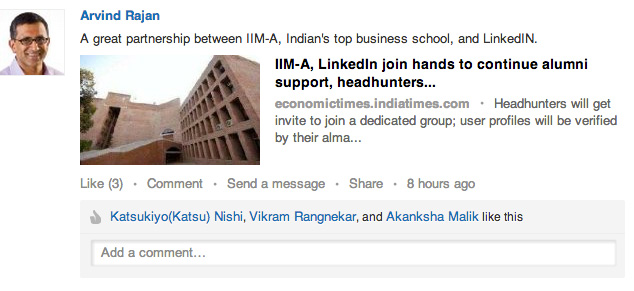 It's interesting when schools opt for technology to find better solutions. As reported by The Times of India, the IIM-A has partnered with LinkedIn (NYSE:LNKD) to help connect its students to recruiters through the professional social network's groups function.
To take advantage of this, students must have a LinkedIn account. So far, there are over 31,000 LinkedIn users at IIM-A.
Besides alumnus, the LinkedIn group will also include headhunters and recruiters. And as time passes, the group will become armed with a great network and resources for future graduates to tap into. It would be interesting to see if LinkedIn could follow this same approach for other colleges across Asia.
Coincidentally, I also stumbled upon a comment from LinkedIn's APAC boss Arvind Rajan, calling the agreement, "A great partnership between IIM-A, Indian's top business school, and LinkedIn."
To date, LinkedIn has reported 17 million users in India.
[Source: Times of India]