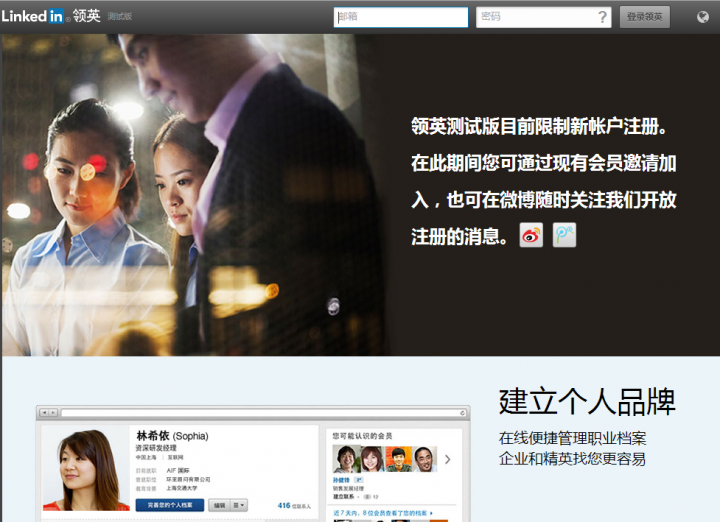 LinkedIn (NYSE:LNKD) has officially launched a Chinese beta version of its professional social network under the name 领英, or Lingying.
LinkedIn is one of the few western social networks that isn't blocked in China, and it reported four million registered users of its English version on the mainland. A Chinese version has been expected ever since the company hired Derek Shen as its new president of China operations.
On the Chinese desktop version, users will find Sina Weibo and Tencent Weibo options to import contacts, as well as a few Chinese email providers. Unlike the international version, Twitter and Facebook are nowhere to be found.
Similarly, the Groups feature and the option to self-publish articles on users' profiles are also missing, although these could be added in later versions. LinkedIn has to walk a fine line between China's laws and regulations regarding user-generated content and creating a user experience equivalent to its global site.
Many domestic social networks similar LinkedIn have tried and failed in the Chinese market. It also already has several solid popular recruitment websites, such as ChinaHR, 51Job, and Zhaopin.
Before the Chinese version was released, the latest version of messaging and social app WeChat allowed users to bind their LinkedIn profiles to their accounts. The integration into China's most widely-used app could prove invaluable to LinkedIn's career in China.
LinkedIn also has localized versions in Indonesian, Thai, Malaysian, Japanese, and Tagalog.
(Hat-tip to Pingwest)
(Editing by Josh Horwitz)