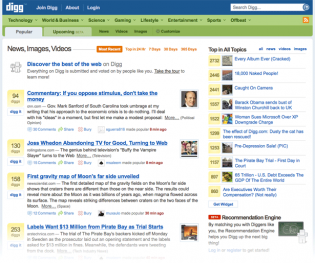 Today, Vietnam's online landscape is dominated by forums and social media. In Vietnam, the places that people go to talk about niche topics haven't reached the level of sophistication of Twitter, Reddit, 4chan, Quora, and Pinterest. Even news apps or sites like Google Reader, Hacker News, Flipboard, Zite, and Pulse are scarce. Not only is Vietnam still catching up to producing well organized and powerful content because users are still reluctant to share, but the mechanisms aren't totally there yet.
Thus, Link Hay, a Digg replicant, stands out as a first-mover that is still going strong, relatively speaking.
As you can see, the site might remind you of the old Digg, back in the late 2000's when Kevin Rose was still the CEO and it was getting over 30 million hits per month. Digg has gone through some serious fluctuations over the years and arguably Reddit has since cannibalized all Digg's users. But Link Hay has stayed the course in Vietnam.
Lan, the current project lead at Link Hay, which is a project under the direction of VC Corp, talked to me about how Link Hay started and where it is today. It all started in 2008:
In the beginning, it was three guys working on a website called Good.vn (a domain that is no longer in use), with a basic concept of social news. VC Corp quickly saw the potential and brought them onto the team to build a social news site with the domain linkhay.com. The team expanded to eight guys. At our peak of growth, from 2009 to 2010, we got up to 12 people. Today we're back to eight.
At that time, Link Hay was certainly one of the first into the social news space. And much of the early users were centered around the technology community. There were about four other competitors like Linkhay.vn (which Link Hay has since acquired and currently redirects to the .com domain) and Linkviet.com. But, coming later and unable to maintain a loyal and large community, they haven't stuck around.
Today, Link Hay's numbers aren't too large with almost 4,000 active users and about 170,000 total users – but they're significant. The site allows these users to post links that are interesting to them, and the site separates links into two main categories: new and Top. The average top link gets about 25 to 30 upvotes. And the most popular link ever got about 459 upvotes.
In a lot of ways, Link Hay was in the unique position of being one of the only sites that was educating the Vietnamese online population about upvoting, social news, and community commenting karma. Going forward, Lan says:
We already built a good system of making sure that users cannot spam links into the site. Although there always be spam and we will adapt to it. In the future, we will be moving towards more community building functions (similar to Reddit) and encouraging more conversations amongst users.
The changing tide of Vietnam's internet landscape, with Facebook on the rise, has certainly impacted Link Hay's users too.
When Facebook started to rise, we started to see that users were directly messaging each other less. Despite this, link sharing still remained stable.
I'm surprised that there aren't more news sites like Link Hay in Vietnam. Most of the online population frequent news sites and we have seen the steady rise of online-only news sites like Vietnamnet and Bao Moi – but Link Hay seems to stand alone. I'd chalk it up to a still maturing online population that just got steamrolled by Facebook, and most of the niche conversational needs are satisfied by the ever-present forums. I'd wait a few years before we start to see any contenders to Link Hay's small but solid throne.