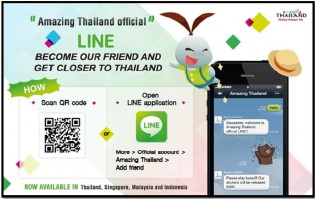 Thanks to the folks over at Coconuts Bangkok for pointing out that the Tourism Authority of Thailand has launched an account on NHN Japan's popular chat platform Line. Its goal is to create another channel by which it can update travelers about promotions and activities.
The governor of the TAT, Suraphon Svetasreni, noted that this effort is part of its worldwide social media strategy. It's interesting to see that Line has risen rapidly to be counted alongside social networks like Facebook and Twitter as important channels through which to reach consumers.
You can find their account by going to the 'add friend' section of Line, and browsing 'Official accounts.' You can find Tourism Authority under the the ID 'Amazing Thailand' [1]. And from now until December 26 the TAT says it is offering fun stickers for download as well.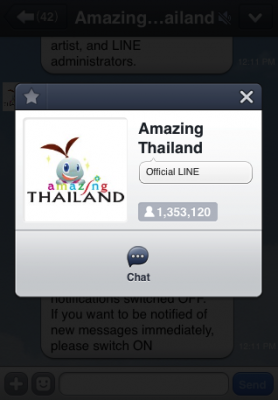 We also recently saw Thai foodstuff and retail giant CP Foods join Line as well, and local mobile operator AIS is working with Line as well. There is even a set of exclusive stickers available for the cartoon character Mamuang, from Thai cartoonist Wisut Ponnimit.
When last we checked, Line had a user base of about 75 million in total [2], with nearly half of those being based in Japan, and a high portion from other Asian countries.
Line has been in the top 10 social networking apps for Thailand on iOS for about a year now (currently sixth), and appears to be doing well on Google Play as well, ranked fifth overall for free apps in Thailand.