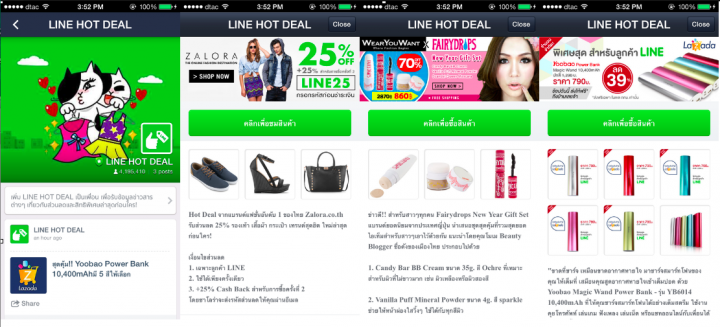 With 22 million users, Line is big in Thailand. So is mobile commerce.
When the two combine, it's an equation for success. We've seen successful case studies where Line sold its own branded products in under 25 minutes, Maybelline New York's Line flash sale in Thailand that was sold out in five minutes, and online marketplace Rakuten Tarad.com using the chat app to boost its sales. But those are all big names. What about smaller companies or those who'd like a smaller commitment?
It seems like Line created an account called Line Hot Deal for this specific reason – to compile deals from around the internet at one place for its users. Last week, it tested out the idea with Rocket Internet's Zalora Thailand by offering a 25 percent discount.
Line Hot Deal could be ideal for companies with a smaller footprint. Yesterday, it worked with fashion e-commerce site WearYouWant to offer sales for Failydrop cosmetics. According to the startup, the partnership was a great success. 700 FairyDrops New Year Gift sets were sold out in less half a day. The deal was launched at 12.30pm, and the products were sold out by 9pm. There were more than 100 orders in the first couple minutes after the message was pushed to over four million fans of the account.
WearYouWant shared that the conversion rate from site visitor to buyer was almost three percent, which is surprisingly high and much better than what the company expected. With that great result, the startup will continue the weekly deals with Line Hot Deal in the future.
Today, Line Hot Deal has offered a deal from Zalora's sister site Lazada. We should expect to see more and more e-commerce startups enter the m-commerce space with the help of Line Hot Deal.
(Editing by Terence Lee)