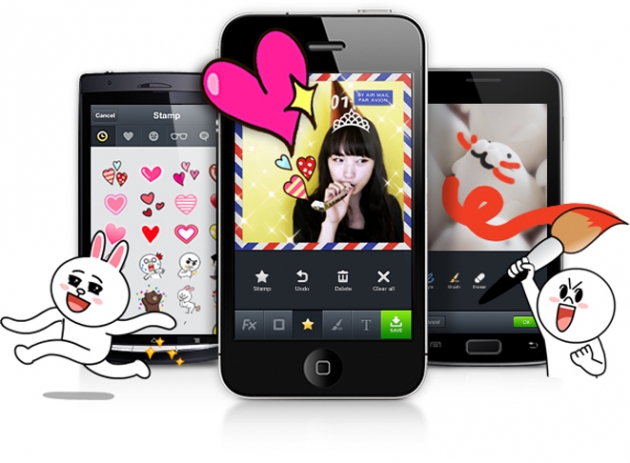 NHN Japan, whose VoIP application Line has seen a skyrocketing user count over the past few months, has today announced the release of its official camera app, aptly named 'Line Camera.' For now its Android only, although the company promises an iPhone version within a few days.
The application is in the Japanese style of purikura, where users can decorate their photos by using the assortment of tools that the app provides. According to NHN Japan, there will be 600 stamps, more than 100 frames, 14 different filters, 156 brushes, and specialized text functions too. The photos can then be shared among friends who are connected on the Line VoIP application, but they are also saved to your camera roll so you can use them elsewhere too.
I gave the app a try just now, and it's really a lot of fun. Unfortunately, it seems to work on some people better than others. I mean, I was pretty sure I was using it right. But my self-portrait on the right didn't quite come out as I had hoped. Ah well…
Line originated in Japan, but is being used all over Asia. And NHN Japan has built in the ability to share photos over a wide range of regional social networks: there's Twitter and Facebook, Japan's Mixi, Korea's me2day and Cyworld, and China's Sina Weibo. (Are you taking notes, Instagram? [1])
The app is available for free at camera.line.naver.jp, and comes in English, Japanese, Chinese (traditional and simplified), and Korean.