NHN Japan has announced today that its popular Line Camera app (see my brief review here) has surpassed the 10 million download mark. This is pretty astounding considering that it has only been out for 177 days. Readers may recall that the app skyrocketed to five million users in its first month, and since then it has picked up (counts on fingers) another five million.
The company is quick to point out, as you can see in their graphic below, that Line Camera reached 10 million downloads even quicker than Instagram. Three times faster than Instagram, in fact, which took 355 days to reach 10 million.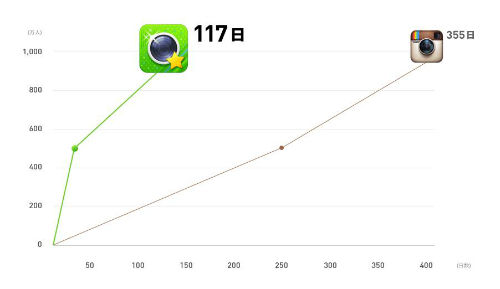 Update: As for the breakdown of Line camera's downloads, an NHN representative tells us that while specific numbers have not been disclosed, the downloads from outside Japan are 'much larger' than inside Japan. It's particularly popular in Thailand, Taiwan, Korea, and the USA.
NHN Japan is having a lot of success so far with cross promotion of its services, leveraging on the huge 50 million+ user base of its Line messaging app. I can't help but wonder if this might be an attractive model for other messaging services to follow. Could MSN Messenger pull off a similar feat, for example? Skype?
Of course, there's also the possibility that Line could be overextending by expanding into new areas too aggressively. But for now, NHN Japan (at least on the surface) is doing well with getting people to download its various apps (see Line Brush, Line Birzzle).
Lets stay tuned and see how the rest Line's adventures, as well as their overseas activities, play out.
[Via Nikkei IT Pro]