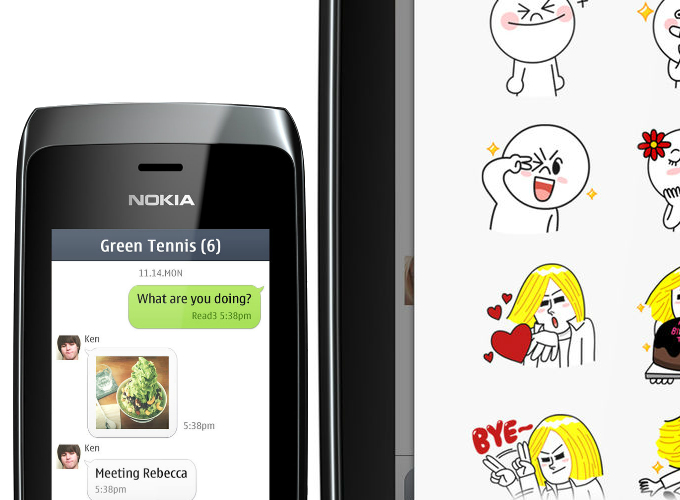 Japan-made messaging app Line is keen to chat up users in emerging markets by launching a version of its app for the budget Nokia Asha phones next month. NHN Japan says today that it's "exciting news for all you Nokia fans" and highlights that this move is aimed at recruiting new Line users in Southeast Asia especially, such as Indonesia, Thailand, Vietnam, the Philippines, and Cambodia.
The announcement from the Line team today, as noticed by TheNextWeb, reassures Nokia Asha users that four types of sticker sets will come free with the app, and the Asha version will also include one-to-one voice chats. Line is already available on (the old) BlackBerry OS, giving it access to nations like Indonesia and helping the messaging app to fight against the iconic BBM service.
Line has over 100 million users so far, and is up against rivals old and new, from Whatsapp to WeChat. Indeed, both those have been available on Nokia's Symbian platform for some time, so Line is playing catch-up.
Nearly 59 percent of Line's users are overseas, and it has already been doing well in markets like Thailand and Taiwan (over 10 million in each) thanks to the iPhone and Android apps.
The Line app for Asha phones seems to have come about due to a specific deal with Nokia, though it's not clear what are the terms of the agreement. A few months ago, Nokia revealed that Indonesia is its second-largest market in Asia.