(**UPDATED** We recently talked to Lifebit co-founder and CEO Eric Clark Su, who reveals more insights about the startup and its recognitions.)
Lifebit app aims to make documenting life addictive. It's a social, community-based personal diary with challenges, quests, points, and badges. Lifebit is one of the first 10 startups in the Philippines funded by Kickstart Ventures. And now, the app is now available for iOS and Android users.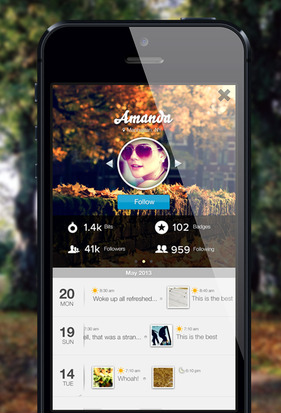 So what's in store for Lifebit users? Like other apps that lean to social interaction, it lets users upload photos, share thoughts and location, and these can be shared to more mainstream social media sites like Facebook, Twitter, and Tumblr. Some functionalities are similar to Facebook, such as moods and privacy settings.
The makers recognize that any other diary app can be forgotten after a while (or at least after a user gets bored of it), so they used a scoreboard system for the app where users can get badges from every passion they share. It can be cooking, sports, or arts, or many others.
Lifebit CEO and co-founder Eric Clark Su says "the original problem was How to make people document their lives more." He adds:
We believe that if we can easily compare life bits (pieces of our lives = days or moments) then everyone's life will improve through inspiration, introspection and coercion. Everything in Lifebit is designed for this mission. It is a game layer around your life.
I tried it myself, and it seems that the quests lead users to use more aspects of the app. After my first post, it showed that I've completed two quests — signing up, and posting my first text. It looks like the gamification system will lead a user to compete with friends in terms of diary entries (something like Foursquare's check-in points).
So here are some of the quests I saw:
By July 2013, Lifebit will offer even more interesting rewards. Why interesting? Because it will then give actual rewards that users can enjoy like hotel stays, restaurant bookings, and even gadgets.
The app that's available today in iTunes and Google Play is still in its early stages, so the user experience may not be smooth as of yet. But the app makers are continuously making updates almost every day and announcing those on their Facebook page.
But as early as today, Lifebit got a Skype co-founder as an investor. It was recently selected as the only Filipino finalist in Beijing at the Global Mobile and Internet Conference. The team is also set to go to Silicon Valley next month for a three-month immersion courtesy of global accelerator Plug n Play Tech Center. Eric shares that Plug n Play's Saeed Amidi, who has also invested in online services such as Paypal and Dropbox, was "very impressed by the product's potential."
So who's behind Lifebit? It may be substantial to point out that the men behind the app are not actually newbies in the field of software development. Eric is also joined by Blue Jayson Basañes, Lifebit Chief Technology Officer. Both have previously built games for Flash and iOS for 2 years, and built mobile and Facebook apps for various brands such as Coke, Unilever, Nestle and Microsoft for another 2 years. The four members of the Lifebit team are also part of the PageSnapp team, the recent winner of the Angelhack Manila contest, who get to go to the Global Demo Day in Silicon Valley in September.
From just trying the app myself, I'd say it's something to check out and engage with. Will it overthrow other online diary apps in the market? It's something we'll find out soon.
(Hat-tip to Thebobbery.com for spotting the app)