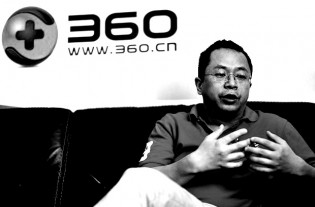 Qihoo's CEO and co-founder, Zhou Hongyi, is famous in the Chinese tech industry. Most locals I have spoken to pay him respect for what he has achieved, going from zero to a listed company. But at the same time, many detest him for being a loudmouth "gangster" who goes around picking fights. He has had many wars with several other CEOs in China including Tencent's Pony Ma, Xiaomi's Lei Jun, and most recently with Baidu.
Coincidentally, in the midst of this heated search battle, I met a source who used to work at Qihoo. Of course I was curious what it was like working under the bombastic Zhou. Under the promise that my source's identity would remain anonymous, the person agreed to speak on the record. For the sake of convenience, we'll assign my source an assumed gender (male) and name ("Mr. X").
Mr. X compared the culture at Qihoo to working with "Captain Barbossa and his fellows." It's rough and very army-like, just like a camp with stern officers bossing you around. Mr. X says that Zhou orders more than he manages; he simply gives employees orders and hope you can deliver instantly. Mr. X told me:
Zhou has failed to create a company structure/culture that encourages cross-functional cooperation, the small teams fight alone. Only lone wolf type of teams do well.
But Zhou's company has worked and was even listed. So Zhou must be doing something right. And surely, there most be some people at Qihoo who believe in Zhou's management strategy. Mr. X remarked:
There are several dozen people who have followed Zhou for 8 to 10 years. They don't necessarily like Zhou, but they've become accustomed to his style and are well compensated with stock options.

The old [Qihoo] 360 team behaves like pirates; they resent each other, but they work together for hopes of stock options and out of fear of the alpha-wolf leader. Only people with certain types of mentalities can stay for long [at Qihoo].
According to Mr. X, Zhou is also a micro-manager. If there's a project that catches his attention, he will supersede the product manager to make his own calls. Sure, Zhou is the boss, but his dominant behavior doesn't give his teams a chance to shine. And often, Mr. X says that talented employees felt insulted because Zhou likes to impose his own ideas on their projects but yet can't commit to a project for a long time. Mr. X told me:
So every time when Zhou cast himself on a project, the team members were all nervous. Teams at Qihoo 360 work under constant fear.

I feel, Zhou believes running a software/internet company is just like having hackathons once in a while. I don't think it's a natural way [of doing things].
No one is perfect and that goes the same for Zhou. Some might find his behavior similar to many dominant alpha-male-like leaders. He has his good side too. Mr. X said that Zhou will do whatever it take to succeed. Zhou is also very generous. At a year-end party, Zhou, using his personal money, gave out a dozen Macbooks to employees in a lucky draw. Qihoo 360 also keeps five percent of its stock to attract and retain future employees. Mr. X said:
[Zhou] isn't a person who respects hierarchy; if you show him that you're capable, he will give you an opportunity, but he doesn't have a lot of patience.

He's a super smart engineer that didn't grow up. He lives his passion, heroic, wanting to make a mark in the history of the Chinese internet industry.

My observation is that he behaves like a patient with depression, he is sometimes over-confident, sometimes self-doubting, and very eager to prove himself fast.
So there you have it. It's just one man's opinion, but ask around with locals who are in the Chinese tech industry and I believe many people will tell you how brilliant but notorious Zhou is.
[Image via Forbes but edited]