Last night at 11 P.M. Beijing time, a Chinese woman won the French Open. Even though it's a holiday weekend, there were no celebrations in the streets here in China. But there was a massive outpouring of support and admiration on Sina Weibo, China's leading microblogging platform.
Tennis fans may recall that Li Na, yesterday's winner, was the runner-up in the Australian Open back in January. She took that loss somewhat bitterly, blaming Chinese fans for having distracted her by yelling during the points and trying to coach her from the stands.
Yet Li's progress as she advanced through the rounds of the French Open this past week was widely discussed online; it was a trending topic on Sina Weibo repeatedly over the past few days and remains at the top of their list today. Obviously, this is a milestone for Chinese athletics that was bound to be discussed regardless of anything else. But I contend that Li Na's victory can also be used to illustrate that Sina's microblogging platform is changing the way Chinese fans cheer for their favorite teams and players.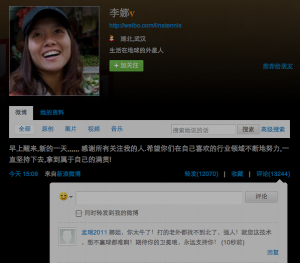 Sina Weibo, though originally a Twitter clone, quickly laid out features that allowed its user experience to surpass Twitter's. As a user of both, I assure you, if it weren't for the censorship on Weibo, I'd probably never use Twitter again. Weibo is just better. Pictures, videos, and more can be uploaded directly. Moreover, instead of messy RTs, Sina Weibo has a commenting system that makes sense. It also makes people feel involved.
Take, for example, that image on the right. That's Li Na's Sina Weibo microblog. In the middle is her "tweet", something she wrote this morning thanking all her fans for their support. And right below that, in the white box, is the first comment from one of her fans (there are over 13,000 right now, so I decided to cut it off after one; you get the idea).
Commenting like this really makes you feel as though you're interacting with a celebrity, even if there's not any actual "interaction" going on. Li Na is not going to reply to all of these fans. But their comments do show up on her Weibo page as well as on their own. There, other fans can also see them and comment on them, even if they aren't following the original poster.
Around Li Na's page there has formed a sort of spontaneous fan community, and this is not the first time this has happened (or the last time it will). Herein lies another of Sina's strengths; they have done a good job of attracting celebrities and famous people of all sorts to their service. Competitors are also doing this, but this competition seems to be playing out mostly in giant ads along the side of buses. On the net, it feels like Sina's game to lose. When something interesting happens — say, someone Chinese wins the French Open — it seems like the person in question always has a Sina Weibo account.
The kind of spontaneous community that is created around a celebrity or news event can just as easily bring destruction as it can support, though. For example, when Fang Binxing, generally considered the inventor of China's "Great Firewall" censorship service, set up an account on Sina Weibo this past winter, he was almost instantly overrun with thousands of negative comments, and within a few days, Weibo users had chased him off the service entirely.
Of course, this is a triumphant moment for Li Na and her fans. But Weibo is ushering in an age when the fans expect this kind of interaction whether their heroes win or lose, and the next time Li Na loses a big match, she could have a big pile of angry comments to look forward to on her Weibo when she gets back. Digital fandom is a double-edged sword, but I'm guessing that right now Li Na is enjoying the fact that her tweets are getting tens of thousands of loving comments when before the tournament started, she rarely got more than a few hundred per post.
I want to stress that this just isn't possible on Twitter – not really. Of course, you can send messages @ your favorite sports stars, but you can't see the messages from other fans, you can't reply to other fans' messages, and you can't see your own message anywhere on your hero's page. Unless you get a direct response, you might as well be firing your tweet off into some empty corner of the internet that contains flash videos from the days of the Colin Mocherie meme and Angelfire pages from the 1990s. Sina Weibo might not give you any better a shot at actually talking to your idol, but it gives you the next-best thing: a spontaneously emerging community of people just as into them as you are. That, of course, is part of what keeps them coming back.
Because it hurts me a little to be so nice to Sina, I feel I must state the obvious: some communities aren't permitted. As with any Chinese company, Sina is required to scrub their service of unseemly political content, and there are countless topics that, if searched for, will return you the old "due to the relevant laws, the search results cannot be displayed" error message. In the past week, I've had at least three tweets deleted by them, because I belong to part of a community that they don't want.
Still, with no direct competition from uncensored services, and every big event (like Li Na's French Open win) solidifying their place in Chinese internet culture, it sure seems like Sina is poised to be the one left standing as smaller clones inevitably die out.
Now that they've created a new sort of community and a new way to be a sports fan, I guess they'll have to move on to the next question: how can we actually make money on this?