Ah, the Olympics. Uniting nations in mutual distrust and nationalist, self-righteous anger for over a century. And so it came to pass this morning that one of China's leading tech luminaries, Li Kaifu – former Google China head – posted a small graphic to his 15 million Sina Weibo followers containing personal info about John Leonard, the US swim official who first voiced doubts about the gold medal performance of Chinese swimmer Ye Shiwen. It included an address and a phone number that we couldn't verify. [UPDATED: A reader kindly provides us with the deleted Weibo post that appears to contain a specially-created card with Leonard's details on it]: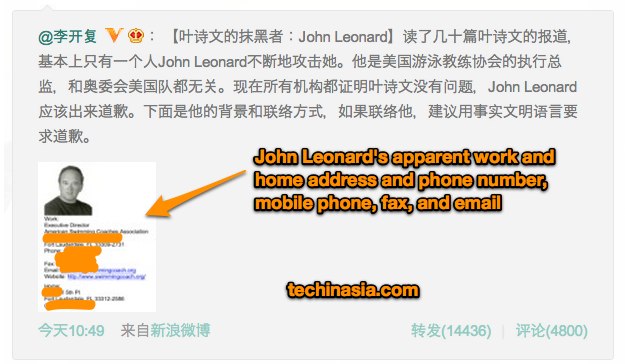 Mr. Li deleted that above tweet in under an hour, and defended his prior action by saying that the information about the US coach was widely available on the web already. To prove it, he posted a link in a new tweet to a PDF file hosted externally (on fgcswim.org) that contains apparent home addresses and mobile phone numbers for numerous Team USA coaches. The tweet is here, and this is the screenshot:
Leonard's words, that Ye's blistering speed in the pool was "unbelievable" and "disturbing," hinting at the possibility of doping, hit hard in China where some feel that the teenage swimmer is being robbed of her chance to enjoy her world record win.
In further posts to Weibo this morning, Li Kaifu – who now runs the startup incubator Innovation Works – kept up the pressure on John Leonard, saying that "he has criminal records (two of which are not for speeding)." The inference is that the other two the crimes – there appear to be four in public records – are more serious. A blurry image of Leonard's criminal record history was also attached to the Weibo post in the above image.
As we know that Li is a keen observer of world events, he can't have been unaware of the furore earlier this week over the journalist who was banned from Twitter for tweeting out the email address of the NBC executive who runs its Olympics coverage. Only time will tell if Sina's (NASDAQ:SINA) trigger-happy Weibo censors will take action on Li's posts.
The deleted tweet is seen here with the typical "This post has been deleted" line from Weibo, now existing as a ghostly appendage on its many initial retweets: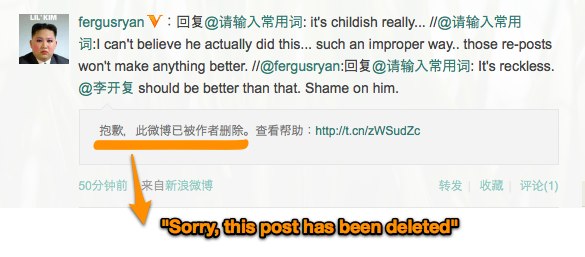 Li Kaifu's outburst against John Leonard seems to have surprised some of his followers. The Weibo user @请输入常用词 was astonished by his now-deleted tweet, saying "I can't believe he did this… such an improper way." But among others, it might win Li new supporters and followers. Perhaps the best thing to say of this whole controversy is that, surely, Ye Shiwen is innocent until proven otherwise.
[UPDATE 2]: Now Mr. Li has also deleted the post in the second picture above that contained both the Leonard criminal record screenshot and the link to the US coaches' details.
[Thanks to Fergus Ryan on Twitter for the image of the deleted tweet]