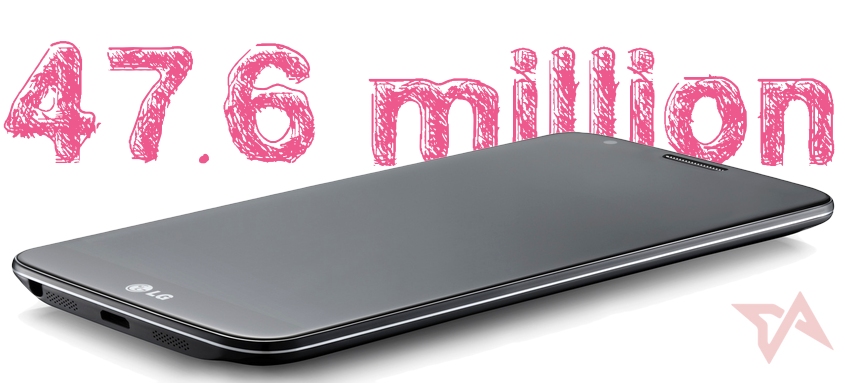 South Korean gadget-maker LG (066570:KS) has released its Q4 2013 earnings report today, which shows some strong numbers.
LG fought back against Samsung (005930:KS) by selling a record 13.2 million smartphones in Q4, as spotted by The Next Web.
Digging through all of LG's reports for the past year, that amounts to a grand total of 47.6 million smartphones shipped to retailers and distributors in 2013 as a whole. As always, those are shipping figures, not sales numbers. Here's the growth throughout the year:
Q1: 10.3 million
Q2: 12.1 million
Q3: 12 million
Q4: 13.2 million
LG's numbers are up 54 percent from the same period in 2012. The company says it's seeing most enthusiasm among consumers for LTE phones – up 110 percent year-on-year – thanks to its flagship LG G2 and its stripped-down Nexus 5.
Financial figures
Despite growing enthusiasm for LG's smartphones of all sizes, the Korean giant saw a net loss of KRW 64 billion ($59.3 million) in Q4. That's from a grand total of KRW 14.9 trillion ($13.8 billion) in sales revenue for that quarter.
LG cites "higher brand marketing expense and intensified price competition in the market" for a drop in profits. For 2014, the company expects the "smartphone market to grow continuously, especially for the LTE phone market. However, overall market competition will be intensified due to diversifying consumer's needs and intensifying price competition as a result of extension of the mass market."
Many analysts are looking to see Samsung rethink and revitalize its ailing Samsung Galaxy S series with the upcoming Galaxy S5. A lot of speculation surrounds the next-gen iPhone, which some analysts reckon will feature a larger screen so as to compete more strongly with big-screen flagship phones from the likes of Samsung and LG.
LG's Q4 report is here.
(Editing by Paul Bischoff)