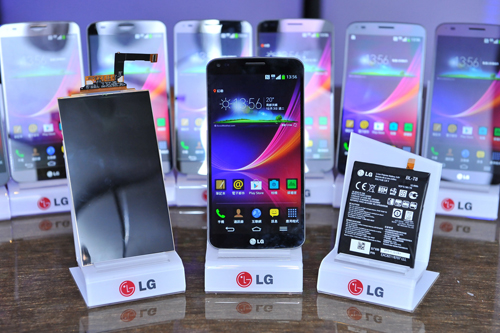 South Korean smartphone maker LG has announced its new flexible and self-healing flagship device will be sold in Singapore and Hong Kong this month. Those are the first two markets outside its home country of South Korea since launch. If and when the US or Europe will get the G Flex is still unknown, but Android Central reports we can expect a global rollout soon.
Singapore can preorder the phone on December 8 and Hong Kongers can purchase it from retailers on December 13.
As the software and performance differences between high-end phones become less distinct, physical alterations are emerging as more prominent selling points. The Samsung Galaxy Round, which is curved around its vertical axis as opposed to the LG's horizontal axis, also launched in South Korea but hasn't specified release dates for the rest of us. Unlike the G Flex, however, the Samsung Round's body remains rigid.
Neither of the phones will come cheap. In South Korea, the LG G Flex runs about $940, while the Samsung Round costs about $1,000.
LG remains one of the top five handset manufacturers globally.
(Hat-tip to TNW for spotting)
(Editing by Josh Horwitz)