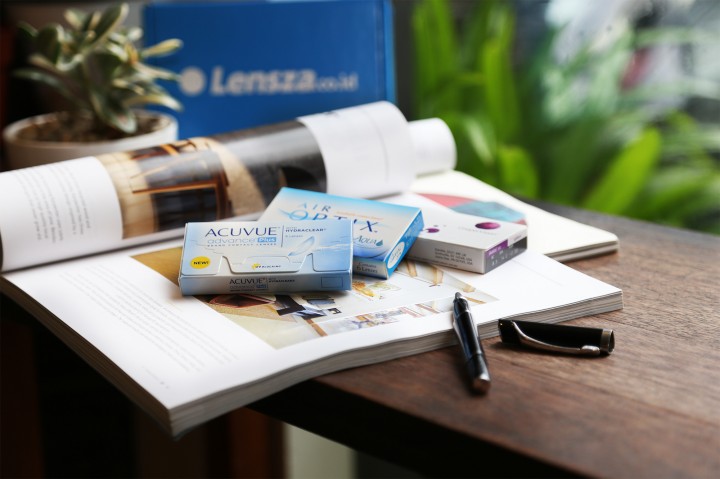 When you think of purchasing contact lenses, buying them online probably doesn't strike you. Not because of a lack of online retailers that offer lenses, but because there's a lengthy process to it. Most consumers would prefer to go to a recognised optician to get their eyes checked and get the pair of lenses that suits them best.
But nowadays, with the shift in how people plan their days and their fast-paced their schedules, the in-person process seems quite time-consuming. That's where Indonesia's Lensza hopes to come in. The site offers soft lenses from all of Indonesia's popular and trusted brands such as X2 and FreshKon at what they claim to be lower prices than offered in stores.
The ordering process is simple; choose whether you want regular or coloured lenses, choose your brand, and then select your lens power. You can get identical or different levels for the left and right eyes for the same price. Lensza offers free shipping around the jabodetabek area and even offers a cash-on-delivery payment method in select cities.
At the moment, Lensza.co.id is the first of its kind to enter the online space in Indonesia, and their only competition lies in the hands of traditional opticians, some of whom offer online services, but are not as complete or extensive as Lensza.
(See: Rocket Internet's real estate classifieds site Lamudi arrives in Indonesia)
 "Contact lenses are still extortionately expensive and unattainable for most Indonesians in need of corrective eyewear. Consumers want and need to have cheaper and alternative sources for quality contact lenses," says the Lensza team. Marc Uthay, the co-founder and managing director, hopes that with their move into the online market, consumers will be able to get high quality lenses at cheaper prices, thus making correctional eyewear available to those who need it while at the same time exposing "the conspiracy of high mall retailers" who intentionally gouge prices to further profit margins.
As for the future of Lensza, the team informs us that aside from just selling products, they want to be able to inform their buyers and readers about the proper uses of contact lenses as well as the importance of hygiene. The site will soon emulate other estores in having a blog called a Lookbook, which is still being worked on.
(Editing by Paul Bischoff and Steven Millward)