Lenovo's (HKG:0992) own mobile product manager has confirmed that the brand-new LePhone S2 – unveiled yesterday at an event in Beijing – will spawn a Windows Phone 7 (WP7) version in the second half of next year.
That seems to sync with what we've heard of Microsoft (NASDAQ:MSFT) prepping to partner with retail giant Suning to distribute and promote a whole bunch of WP7 handsets. Indeed, since Lenovo's S2 is aimed exclusively at China, then this is most sure indication that Microsoft's WP7 platform is now ready to fight against Android and iOS in China. Indeed, we've already seen an apparent test unit running WP7 leak out on Weibo (pictured above).
The Lenovo man, Chen Yue (pictured right), said specifically: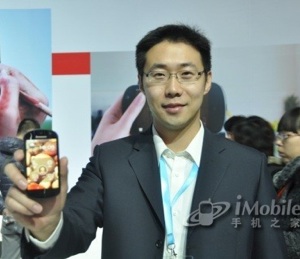 We've already decided, the LePhone WP7 version is in testing, and we have a clear timeframe in mind, which is for the second half of 2012.
The refreshed LePhone S2 – see some close-ups over on Chinese Engadget – comes with Android 2.3.4 and a slightly beefier 1.4GHz single-core processor for an unsubsidized 2,990 RMB. It'll come in TD-SCDMA guise for China Mobile (HKG:0941; NYSE:CHL), along with a WCDMA one for China Unicom (HKG:0762; NYSE:CHU), and a CDMA iteration for China Telecom (HKG:0728; NYSE:CHA). So those are all three telcos covered in China.
Lenovo's event also revealed that a total of 700,000 of the original LePhone handsets have been sold since its launch in May 2010. Though that sounds good on paper, that was actually a very weak showing from what was touted as being like 'China's iPhone' when it was first launched.
It's also questionable if it's wise to make a different OS version of a phone that – by the time of its WP7 brethren coming out – will be nearly a year old. That's a long time in the fast-moving world of smartphone hardware by which time there will probably be quad-core beasts.
[Source: iMobile – article in Chinese]