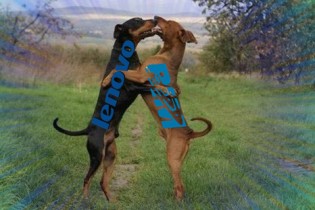 Late yesterday, Bloomberg reported that Chinese tech giant Lenovo is pondering an acquisition of Research in Motion (RIM), in a move that would presumably be aimed at boosting its own mobile business. "We are looking at all opportunities — RIM and many others," Bloomberg quotes Lenovo CFO Wong Wai Ming as saying. RIM declined to comment.
The Bloomberg article highlights the potential security concerns that might be raised if RIM were bought by a Chinese company, but I think this would not pose a particularly large obstacle to Lenovo or to the acquisition. Huawei and ZTE have been getting a lot of heat over security in foreign countries, yes, but that's rather different. Huawei has a CCP office in its headquarters, and ZTE's founder is a former military officer. Both companies have done some pretty sketchy things in Iran. Lenovo, on the other hand, is kicking ass globally with PCs already, and its computers are in more than a few corporate offices as-is, so it's hard to see why their purchase of RIM would really become a big security sticking point. Are RIM's networks really carrying any more sensitive data than all the Lenovo PCs in corporate offices around the globe already?
With that said, I must admit that I don't really get it. Lenovo is making great progress in the mobile sector with its smartphone offerings, while RIM is losing ground even in traditional strongholds like Indonesia. True, RIM and the Blackberry platform are popular with the corporate crowd, so Lenovo may be interested in that market. That said, I still don't get it, so I'd like to open up the floor to you, dear readers: what am I missing here? Why would Lenovo be interested in buying RIM? Is this a brilliant idea that I'm just not getting?
(via Bloomberg)