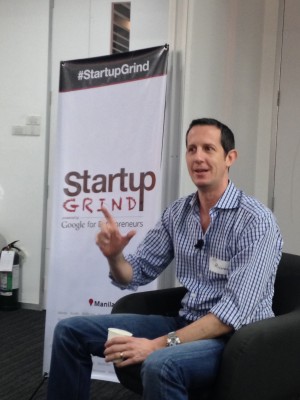 After starting operations in the Philippines in 2011, Lenddo, an online platform that promotes creditworthiness through social reputation, has come a long way and now has over 500,000 users globally. But it didn't come so easily.
Lenddo co-founder and CEO for Asia Richard Elridge shared some of the experiences he and his team encountered to a group of startups during the recent Startup Grind held in Makati City. Here are some of the key points from his talk:
1. Working at a startup involves continuous learning
Lenddo's idea came to existence when a number of employees in Elridge's outsourcing company came to him to ask for loans. Elridge says:
I was amazed as to why they are coming to me and looking to me for money when they could go to a bank. […] We decided to do a research. We were curious.
The research showed that the middle class in the Philippines is starting to grow. And this class also mostly used the internet for social purposes. In addition, in the Philippines, 80 percent of people still didn't have a bank account.
"I thought, how about we try to put traditional microfinance online?" says Elridge. But he and his team didn't know how they could make it happen. "It just seemed like a huge idea," he adds.
They studied the trends further and decided to look at some of the best practices. Here's what Elridge learned:
Your social reputation is your collateral. And moving is important in the future, that's going to be very important. [Online] reputation is being formed in many different ways now.
2. Believe in the idea
Gathering all these thoughts together, Elridge and his team was sure that they wanted "to economically empower the emerging middle class." But at the same time, they didn't want to be a financial institution. What they wanted is to create was an online experience "that allowed people to join very easily and calculate credit scores" based on social media and other online activity.
In the beginning, Elridge encountered some people who doubted the sustainability of Lenddo. But what he carries with him is the "fundamental vision and passion" for what they are doing.
3. It won't be easy
If you think turning your idea into reality is easy, it's not. A successful entrepreneur might be one who does not give up. Many startups can relate to this. So does Elridge. He says:
Everybody who has a startup understands difficulty. We tackled a big problem and we knew it was gonna be hard. We have the passion for that and we kept pushing through, despite the challenges we faced. If it was easy someone else would have done it.
One of the problems they faced was when looking for venture capitalists. Very few people understand financial tech, unlike other parts of the internet industry like social media. Finally they found a good combination of VCs. Last year, Lenddo raised $8 million in funding and it picked up another $6 million this year.
4. Don't rush
Of course, for a startup, scaling to more countries is cool. But Elridge advises other startups not to rush things. he says:
Decide how deep you could go in your first country versus expanding in another.Don't rush into your second country. Dont scale too quickly, make sure you've proven that model out and then get ready to scale.
(Editing by Josh Horwitz)