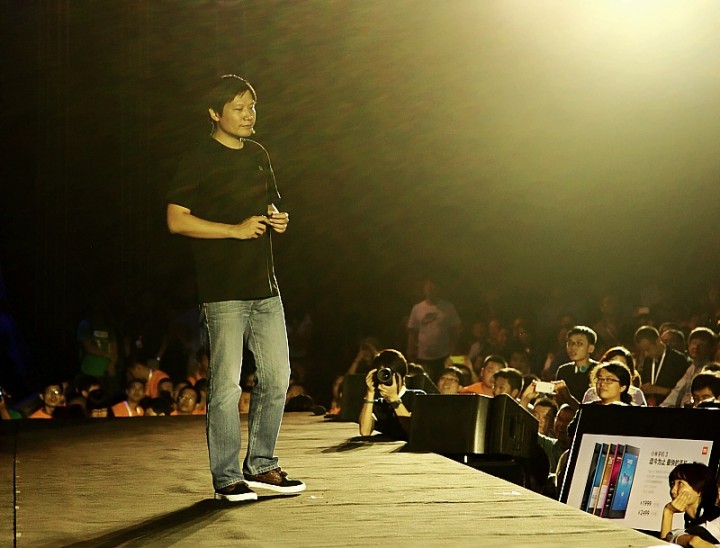 It's not easy being Xiaomi, according to Lei Jun.
There's no doubt that while the company deserves the attention it receives, from the beginning, it's been subject to over-excited, lazy comparisons to Apple and Samsung that ultimately fuels a petty backlash.
Wednesday, in a lengthy post on Xiaomi's usually quite peppy Chinese-language official blog, the CEO expounded on his frustrations with the way news outlets and social media users have depicted the company and its leading figure. While Lei doesn't quite lose his cool, he certainly doesn't shy away from telling his critics how he feels. Among other issues, Lei directs his attention towards:
Chinese-language media outlets that use the word "baofahu," to describe Xiaomi (the term is commonly used to describe lower-class Chinese that have gotten rich overnight, and tends to contain an air of condescension). 
Reporters that imply that Xiaomi is "the next Apple" or "the next Samsung."
Users unhappy with certain marketing and design decisions.
It's a rant indeed, and we've translated the post in its entirety below.
Chinese media outlets, as one would expect, have published responses to Lei's piece, calling some of his claims into question.
Since we like to stay out of pissing matches and want to respect Lei's sentiments, we'll keep our analysis to a minimum. One thing's for sure, however – you attract more flies with honey than with vinegar, and a post like this is a drop of vinegar in Xiaomi's otherwise sweet honey bucket.
Also, people: stop calling Xiaomi the Apple of China.
---
"Lei Jun said, 'users are not gods!'"
"Lei Jun said, 'Xiaomi will usurp Apple.'"
"The Wall Street Journal said, 'Xiaomi is a baofahu'.'"
……
To be honest, whenever I see headlines like these, I'm extremely tempted to click and have a look.  These sort of headlines tend to cause heated debates among large numbers of readers. However, speaking honestly, I feel a bit torn, because many people will criticize me in these articles.
I don't mean to blame the media when I say this, but these headlines are written just to attract viewers. People who've been in the internet industry for a long time know that entertainment and commerce are unavoidable elements. This isn't to say that people are evil, but sometimes, when you say things too many times, they'll be taken as the truth. And this causes us distress.
Who likes to be criticized? Especially when you're criticized beyond fairness?
For example, when I said "Users aren't gods" – it's true that I said that, but that was something I said at the beginning of this year at our annual meeting for our employees. What I said was "We want to do Xiaomi the right way, we need to insist on quality, and we need to befriend our fans. We won't treat our like gods, we will treat our users like friends. If we treat them like gods, we become weak. We need to treat our users like we treat our good friends, and help solve their problems."
But when some media outlets just take out that one phrase – "Users aren't gods" – that doesn't represent what I meant. I can't accuse the media of spreading rumors because I actually did say this sentence.  The articles themselves don't say anything negative, but the readers are still misled, and in editorials and on Weibo, I'm taken for a beating.
Then, soon after, since Xiaomi's international influence is growing, the well-known US finance paper The Wall Street Journal came to interview us for a piece on Xiaomi. Before that piece, the Wall Street Journal thought of us as a shanzhai company, but when they came to interview us and really understand Xiaomi, they wrote an article titled 'How Upstart Xiaomi Rattled China's Smartphone Race,' which was an objective overview of Xiaomi's development and sales records. They introduced Xiaomi to the whole world. The Wall Street Journal never again accused us of making shanzhai phones because they saw our numbers. But after the report was published it was translated by the domestic media, the title was changed to "Baofahu Xiaomi rattles up China's smartphone market" – "Upstart" in the Chinese-English dictionary has two translations, "xingui" and "baofahu." I'm not interested in arguing over semantics, but everyone can see that the Chinese translation of the Wall street journal holds a fundamental bias by using the word "baofahu."
Also, during a lot of interviews, reporters will set up traps that I can't defend myself against. Often reporters will ask me questions like: "How is Xiaomi better than Apple or Samsung?" How am I supposed to answer this question? There's no way I can give the right answer to this question. Xiaomi has only been in business for three years, how can I possibly compare it to global giants like Apple or Samsung? But from another perspective, Xiaomi is standing among giants in a competitive, fast-changing industry. Are you implying that Xiaomi doesn't have qualities that make it stand out? Of course it does. But when [these qualities] are described by someone else, they could end up in a piece titled "Lei Jun said Xiaomi has already overtaken Samsung and Apple," or something like that. Then I'll get criticized on the internet again.
Argh!
Then there are the questions that lump Steve Jobs and myself together. This is also another question I can never answer correctly. Mr. Jobs was a great man. He did brilliant things, he changed the world, and was a huge inspiration to Xiaomi. But to use him as a point of comparison for myself is completely inappropriate. Xiaomi and Apple are two totally different companies. So when a reporter asks, "People all call you 'China's Steve Jobs', how do you respond to that?" I really have nothing to say.
So many times I'll be speaking with reporters and I'll be very clear in what I say, but then the pieces come out, and I'll come across as naive. Everyone's willing to mock Xiaomi, mock Lei Jun - it's just harmless entertainment, right? But the point is, everyone knows that we're not naive at all.
I don't exactly know when it started, but on social media, putting down Xiaomi somehow became a matter of political correctness. White collar workers complained when we opened up sales on weekends. Students criticized us when we did it on weekdays. We were scolded when we stopped reservations after the waiting list extended to three months, but criticized just the same for inducing panic buying when we opened up sales every week. When our manufacturing capacity matched demand, we were scolded for not being able to sell our phones, yet when we offered discounts in July and demand picked up, customers complained that they couldn't get their phones. When we added illuminated buttons to our phones, users complained they were too bright in the dark. Yet when we removed them, users railed they can't find their phones at night. When we came out tops in performance benchmarks, we were accused of being too obsessed with specs. Yet when we lagged behind, our phones were criticized for lacking performance.
Oh well, forget it. I'll just keep on working.
It doesn't matter if you're in China or abroad – there will always be people that view entrepreneurs with suspicion. Most the time entrepreneurship is about trying new things and failing. It's normal for the masses to question entrepreneurs. No matter the question, it's never good to refuse to listen. It's even worse to turn and look away. But as for how to face the mockery and criticism of the masses, maintaining positive, collaborative relationships with our users is a must for all entrepreneurs. As for being badmouthed – in this society, every one of us faces difficulties. If putting down others helps someone feel better about their lives for a moment, so be it. Everyone will badmouth me. Today I even badmouthed someone else – I had a laugh and forgot about it. I have a lot of work that needs to get done – for example, I have to help people use better products, maintain high-quality at a reasonable price, continue increases in production capacity… badmouthing others won't help me accomplish any of these tasks.
In an extremely short amount of time, Xiaomi has developed beyond what most most people could fathom. Speaking frankly, we've even exceeded my own initial expectations. Xiaomi has had good luck. We've been running for three years, and all has pretty much gone smoothly. We've encountered some minor setbacks, but no major ones. We've grown extremely fast. I hope that in the future we can continue to have good luck.
(Source: Xiaomi Blog)
(Top image: Xiaomi Blog)