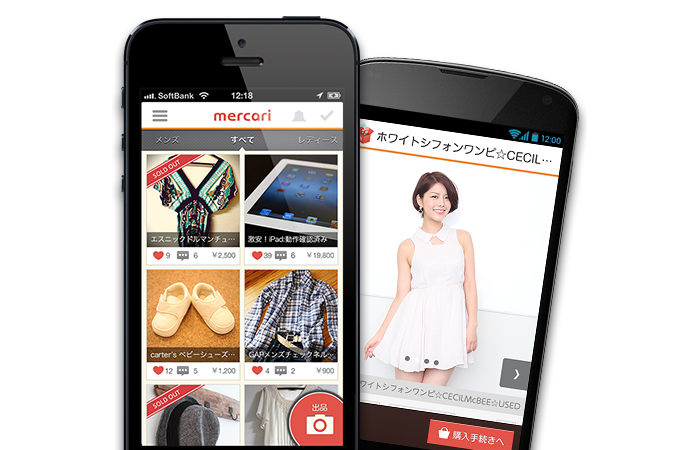 With millions of dollars in the bank, most people would already be satisfied with life. But serial entrepreneur Shintaro Yamada wanted more than just financial freedom. He wanted to build a company that is truly global. His first shot at global fame was Unoh, a gaming studio founded in 2001 which was sold to Zynga in 2010.
After working at Zynga for 18 months, Yamada took a year-long break and traveled around the world. "While traveling, I thought about what to do next. Mobile commerce comes to mind because there is a chance to go global," says Yamada. Returning from his travel, Yamada founded Mercari, a mobile marketplace that allows users to sell their second-hand items. He explains:
The world has limited resources and people are more willing to accept second-hand items nowadays. C2C (consumer-to-consumer) selling also isn't subject to tax, which means users save money. The rise of smartphone usage also plays a big part.
In July 2013, Mercari raised $500,000 from East Ventures1. One month later, it raised an additional $3 million from United, which valued Mercari at a total of about $20 million. Yamada declined to reveal Mercari's user data but did note that in 2013, his app was named the best iOS and Android shopping app in Japan.
Posting items on Mercari is as simple as snapping a picture and inserting a product description and price. Yamada says that 25 percent of all purchases happen within one hour after the items are listed. "One man's trash is another man's treasure," he said.
On average, users are posting more than 10,000 new items each day on Mercari, and there are currently one million listings in the service. 50 percent of the listings are related to female fashion and cosmetics. The majority of the users are women in their early 20s who live in the suburbs, where big department stores are hard to come by.
Playing the platform game
All four of the startup's key executives members have experience working in gaming companies. Ryo Ishizuka was the founder of RockYou, Tommy Tomishima was the founder and CEO of BOI, and Fumiaki Koizumi was Mixi CFO. Because of their gaming backgrounds, Yamada says the e-store company is extremely data-driven. Despite the team having a ton of startup experience under their belt, Yamada finds that building a platform is harder than building games. He explains:
Games are content and they are easier to get installs and money from users. But building a platform is tough. User-count increases every day but at a steady rate. Building a platform, we have to handle both supply and demand. But for games, we're just thinking about content.
Reflecting on his time with Unoh, Yamada believes that his experience helped build more confidence in his management skills. The biggest difference, as Yamada sees it, is that now he has more confidence to hire the brightest talent in the industry. Today, the company is comprised of people who are alumni from GREE, Mixi, and DeNA. He has also brought in some former colleagues from his previous venture.
Despite being available only in Japanese app stores, Yamada says that Mercari aims to be a global mobile marketplace and will have more exciting news to share with Tech in Asia readers soon.
"We are not looking to sell Mercari. We want to be global and be a listed company someday," he says.
---
Disclosure: East Ventures invests in Mercari and Tech in Asia. Please see our ethics page for more information.↩