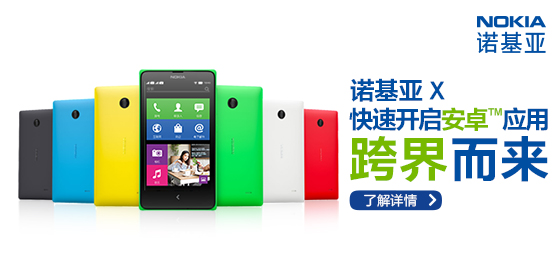 Online retailer Jingdong (a.k.a. JD.com) will be the exclusive seller of the Nokia X series in China, the Finnish company's first Android phone unveiled at the Mobile World Conference in Barcelona today.
Many saw the Microsoft-owned Nokia's decision to make an Android phone as a white flag signaling the defeat of Windows Phone, but Microsoft is still pushing its own OS in China and India by partnering with local phone-makers. Nokia (NYSE:NOK) noted other key markets include Indonesia, Thailand, Vietnam, and Russia.
The new phone's tile-based UI, while built on the Android Open Source Project, looks more like Windows Phone than Android. It also uses Microsoft's cloud services rather than Google's. The entry-level Nokia X could act as a gateway phone leading consumers to higher-end flagship Windows Phone models like the Lumia.
Prices start at an estimated $122 and comes with a 1Ghz Qualcomm Snapdragon dual-core CPU, 4-inch display, dual SIM slots, and a full rainbow spectrum of color options. Nokia says the X will run about 75 percent of Android apps out of the box. The default app store in China will be curated by Nokia and UCWeb, the Chinese maker of the world's most popular third-party mobile browser.
Jingdong didn't mention the other Nokia Android models shown off in Barcelona today, the X+ and XL. Those models are expected in the second quarter of this year.
Jingdong claims to be the country's largest mobile phone retailer. The tie-up with Nokia marks the latest entry to Jingdong's exclusive JDPhone program, in addition to the ZTE Nubia and Huawei Glory.