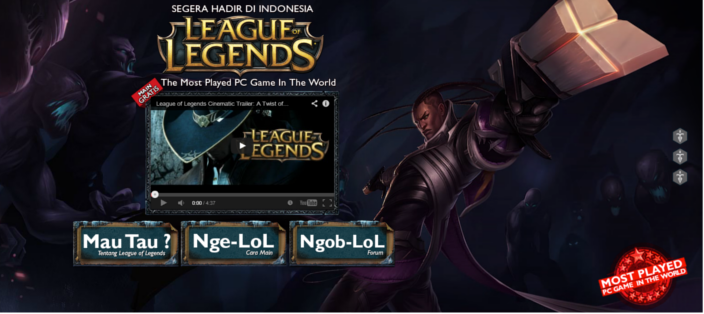 Garena Indonesia is launching League of Legends (LoL) in Indonesia next month with the aim to bring competitive gaming to Indonesia via the popular game. MOBA games like League of Legends are currently Indonesia's second most popular game genre, after MMORPGs, so it is only a matter of time until Indonesia joins the eSports scene, and it seems that Garena Indonesia wants to be the first to make it happen. After we reported the Indonesian version was coming earlier this summer, I met with Tjokro Gunawan, Garena's LoL project manager, at the Indonesian Game Show (IGS) 2013. He claims there are already quite a lot of LoL players from Indonesia, playing on other regions' servers such as Thailand and the US. Obviously this creates problems for Indonesian gamers, mainly because of connection speed and distance, so having a domestic version should boost the game's popularity even further.
Localization for Indonesian gamers
Garena Indonesia will provide localized servers that should be more stable, ensuring low latency and stable gameplay. That's something very important for Indonesia, mainly because Indonesia has a rather slow internet speed, which can cause severe delays if you're playing on servers outside of Indonesia or Singapore.
But there's more to the upcoming release than local servers. Garena Indonesia has promised to properly localize the game to suit Indonesian gamers. This is done by providing a full client translation to Bahasa. The translation will be provided mainly for the interface, such as the text announcement when a champion is killed, item description, and so on.
LoL Indonesia will be free to play, using a system similar to the international version, in which most of the champions are locked. Players unlock them using in-game currency gained from playing. However, players can also opt to use real money to hasten the process of unlocking heroes. Players will also be able to purchase champion skins using real money for their heroes.
Local tournaments will be held
Along with the localization plan, Garena Indonesia also promises to hold LoL tournaments in Indonesia to help bring the nation to the global eSports scene. The tournaments will be divided into three groups: the rookie cup, a semi-pro league, and a pro league. The rookie cup allows any player to join; the winners will be considered semi-pro teams. Semi-pro teams will compete to earn their position as pro teams, and the pro teams who win the pro league will be chosen to compete against teams from other countries.
I am very excited to see LoL coming to Indonesia, and I hope a boost in the country's eSports scene can help bring Indonesian game development to the next level.
(Editing by Charlie Custer and Anh-Minh Do)