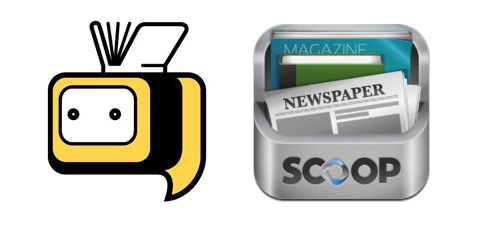 They have a combined collection of 600 regional magazine titles and daily newspapers. They reach over 4 million devices, and deliver over 6 million digital publications a year.
Now imagine what would happen if Ookbee of Thailand and SCOOP of Indonesia partner up. That's exactly what they did, announcing couple of days ago a strategic tie-up in a press release.
Both are already impressive in their home countries. Ookbee has partnered with Thailand's largest telco AIS and the country's leading bookstore B2S. It also received an investment of USD2M from Shin Corporation at a USD8M valuation, and was reportedly growing at 5,000 users a day.
SCOOP, meanwhile, has gotten sizable traction on its apps. It hit 250k users on iOS and 30k to 50k users on Android with a mostly Indonesian user base.  It raised USD 0.77M from Gobi Partners and Mitsui Global Investment last year, and is looking at expanding to Singapore, Malaysia, and Vietnam.
The collaboration could make them dominant regional players. It will accelerate growth through knowledge sharing, securing deals from bigger publishers, and cross-marketing their products. Foreign publishers and device manufacturers could benefit too: it'll be easier for them to get visibility through the combined reach of both platforms.
"Partnering together will make Ookbee/SCOOP the biggest newsstand and e-book store platform in the SEA region. I believe this will create a synergy in so many ways in order to fulfill our visions of offering the best services for our users," said Ookbee CEO Natavudh Pungcharoenpong.
Willson Cuaca, CEO of Apps Foundry, the company behind SCOOP, said that he compared notes with Ookbee and realized that firstly, both platforms are moving in the same direction. Second, Southeast Asia is made up of diverse markets.
So, to get over the hump of going regional in a fractious environment, it makes sense to partner up. Competition between both is inevitable, but knowledge sharing and cross-marketing could bolster both sides. This results in better products and improved services for customers.
It could also give them an edge over other competitors in the region. SingTel, for instance, has jumped into the fray with Skoob. Another Singapore corporation, MediaCorp, has launched ilovebooks.com. Thailand also has its own offering, Asiabooks, a traditional book business which recently ventured into digital publications. And of course, no one can overlook Apple and its Newsstand app.
The e-publishing industry is expected to see tremendous growth in the coming years as consumers migrate to mobile devices. According to Pricewaterhouse Coopers, e-book spending in Asia-Pacific is expected to hit USD2.26B by 2016. That's up from USD1.27B in 2012.