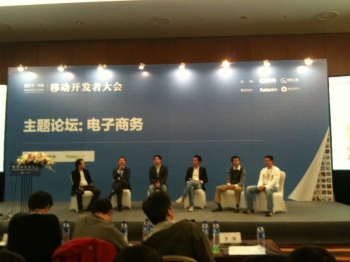 This article is part of our coverage of the 2011 China Mobile Developers Conference.
Here at the 2011 China Mobile Developers Conference panel on LBS (Location-Based Services) and Ecommerce, moderator Jin kicked off with a question: has the LBS + e-commerce combination arrived too early in China?
Wang Jiang, CEO for Hangban Guanjia took the mic and said he is confident that it isn't too early. He smartly pointed an example: Hotel Finder, an app developed by Ikamobile which helps users find/book hotels based on location. Wang said that Hotel Finder has already started making money, and then handed the mic off to Liu Zhangbo, the founder of Ikamobile, who was also on the discussion panel.
Liu Zhangbo says that the use of LBS depends largely on the industry. Hotel booking makes sense because people like to know how far the hotel is from wherever they're planning to go, be it a conference location or a tourist attraction.
Wu Yihong, CEO of Vpon Mobile Advertisement, says while working with big brands like Starbucks and McDonald's for LBS coupons, he has noticed that there is a strong need to educate the public about LBS. Instead of spending time developing the promo codes and strategy, he realized that a huge chunk of time is spent on educating consumers.
"Education" seems to be a problem faced by Vpon only as Li Haorong, Jiepang's strategic officer says that Jiepang achieved huge growth thanks to its good timing. "We are lucky because since last year we realized that most people are very comfortable with smartphones and are using services like Weibo and Foursquare. So Jiepang, a check-in network built for the Chinese community, quickly picked up [users]," he said
The moderator pressed further on e-commerce, asking: "So you guys aren't working on e-commerce?"
Li said that there are a lot of things that LBS can do and they can't possibly work on everything. But on e-commerce, Jiepang plans to partner with sites like Yihaodian.
[See also: Our interview with David Liu, founder of Jiepang.]
Zhou Hang, CEO of Yongche.com, is a no bullshit panelist and my favorite among the rest. He questioned the moderator — 'Do you mean it's too early to start or too early for rewards?'
The moderator smiled and the audience clapped because Zhou was right: the question was vaguely constructed.
Zhou moved on to cement his point, "If you believe in LBS is the future, you should work on it right now." He points to Ikamobile as an example. He says that if Ikamobile hadn't started dabbling into LBS in 2008, it would never have been able to make Hotel Finder a success. "If we're talking about harvesting LBS rewards, then yes, we're too early."
(I found it interesting that Hotel Finder seems to be the only LBS success, both in terms of user growth and revenue, which they can mention.)
Zhou also added an insightful note. He feels that consumers are happy to buy via their PCs. "You really need a hardcore shopper to shop on mobile Internet," he said. "And most giant e-commerce websites are easily ported over to mobile. Zhou says that the value of LBS isn't e-commerce, but service.
Zhou also hates group buying because it doesn't bring much benefit and sustainability to merchants. It focuses on low prices which is good for consumers but not exactly good for merchants. And because prices are driven so low, merchants can be forced to compromise on the product quality.
"Group-buy sites are the lower class of the IT industry," he said.
Hahahaha! That's a wrap folks!