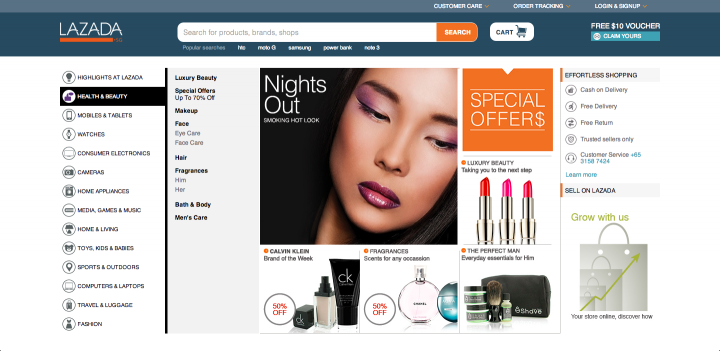 Lazada extended its footprint in Southeast Asia today as it officially launched in Singapre. At a media event held late this morning, co-founder and managing director Martell Hardenberg unveiled the new company's new localized site, Lazada.sg.
When asked about the decision to expand into Singapore, Hardenberg commented:
Singaporeans are increasingly turning to ecommerce to fulfill their every need and we feel that we are well positioned to maximize off this trend.
According to Lazada Group CEO Maximilian Bittner, the shopping site currently maintains the highest web traffic of any online mall within its current markets across Southeast Asia. These markets include Indonesia, Vietnam, Malaysia, Thailand, and the Philippines. It also aims to be the go-to shopping site here in the Lion City.
Lazada.sg wants to provide a holistic and effortless shopping experience for its online customers. It will offer cash-on-delivery service, through which users can pay up to S$500 (US$398) when they receive the goods at their doorsteps.
The current website is also optimized for mobile. Hardenberg added that iOS and Android Lazada applications will be available in June, followed by an app for Windows Phone. He stressed that mobile is the company's key strategy in Singapore, given its high mobile penetration rates. The team also recognizes that people can use Lazada as a price comparison service while shopping at a physical mall.
Unlike that of other countries, Lazada's strategy for Singapore will center around the marketplace. Lazada does not purchase or hold any inventory in Singapore, instead, it invites vendors to post listings on Lazada.sg's Trusted Seller only program in order to sell their items.
Lazada currently has over 20,000 items across eight different categories for its new Singapore site, despite being only two days old. But customers will find themselves breaking their pockets pretty soon as they will be rolling out up to 13 categories in the coming weeks. Bittner added that aspirational brands and a new private label collection will be available by the third quarter this year.