Three days ago, Indonesian online contextual advertising network SITTI (short for Sistem Iklan Teknologi Teks Indonesia, which means Indonesian Text Technology Advertising System) announced its appointment of Susie Sugden for the company's managing director position. This is the same Susie who resigned from Lazada Indonesia's managing director position back in May.
SITTI was established in 2010 and was a winner of the GEPI Business Challenge back in 2011. It was founded by Andy Sjarif to address the gap in understanding of the Indonesian language by contextual advertising. Andy commented on this latest appointment:
As SITTI grows and matures beyond our network of more than 30,000 publishers and 40 million Internet pages, we need to have international management experience to begin our journey forward. For this reason, Susie is the right management fit for us. We are very excited to have her on board.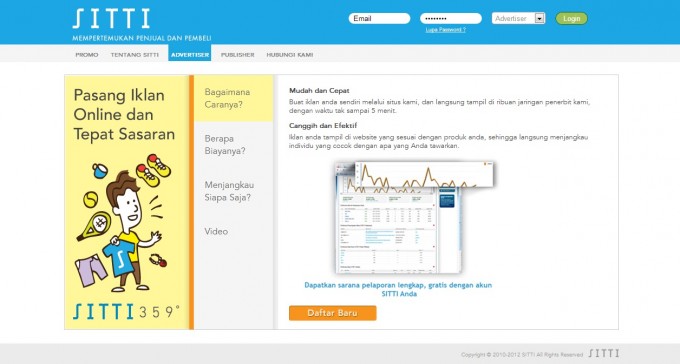 Here are some stats from SITTI:
* Since starting in January 2011, the company has had 20 percent average growth in pages every month.
* Delivers 450 million ad impressions every month.
* Its database understands more than one million keywords.
Out of her love to help companies grow, Susie has been involved with SITTI since June. Though it was in October that she officially joined SITTI, only this week is it being announced publicly. The company believes that its deep local knowledge of advertisers, Indonesian internet users, and the Indonesian language is what will set the company apart from the rest.
SITTI has been supported by a loyal network of Indonesian angel investors since its launch in 2011. The company is now exploring other partnerships in the market, but nothing has been finalized yet.