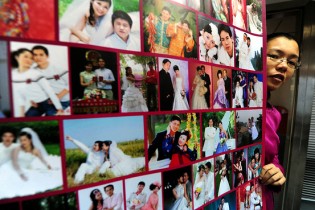 We've written quite a bit about the lax enforcement of real-name policies on Chinese social networking platforms like Sina and Tencent Weibo. But Chinese dating sites have apparently been taking the same lax approach, and it turns out that people really don't appreciate being lied to when they're looking for love.
Take, for example, Baihe, which launched its real-name system late last year. Critics have called the move a marketing scheme, and Xinhua recently reported on a woman who has sued Baihe for nearly $80,000 after she was tricked and robbed by a man she met on the supposedly-trustworthy dating service. (They met in 2010 before Baihe launched its real name requirement, but the woman was a paying member with a confirmed identity and feels Baihe shouldn't have matched her up with a non-confirmed member).
The lawsuit is in the court system, but both parties are still negotiating, according to Baihe CEO Tian Fanjiang. Regardless of how it turns out, though, the lawsuit is shining a light on the online dating industry, which faces even greater pressure than regular social media when it comes to real-name requirements. On the one hand, dating site users are, for obvious reasons, highly in favor of stringent real-name requirements. But on the other, stringent real-name requirements scare away legitimate new users who don't want to bother with the hassle, and they reduce user numbers, which can make a site appear weak, especially if its competitors have user numbers that are inflated by fake accounts and unverified users.
It seems inevitable that dating sites will eventually move in the former direction, making real-name requirements stringent to ensure that they can keep the customers they've managed to attract; even if it means a lower user count, user counts alone do not generate revenue, and long-term customers do. But another question is how feasible an effective real-name system really can be. Tian Fanjiang told Xinhua that real-name registration is not omnipotent, and he's right. Plus, it will take more than just confirming someone's legal identity to weed the scumbags out of a dating site; some people are happy enough to trick and abuse others using their real names anyway. But one way or another, China's dating sites will have to find a way to make users feel confident the people they're talking to are real, or users may migrate to other services to search for love.
[Xinhua via Sina Tech, Image Source]