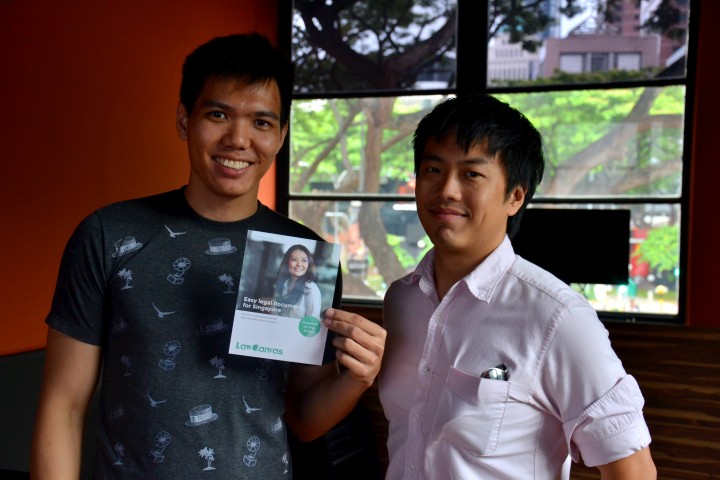 The early days of founding a startup are always the most fun, as any entrepreneur will tell you. Coming up with outrageous ideas, splattering them across whiteboards in glorious vagueness, and chowing on instant noodles together – veterans recount these moments with smiles on their faces.
Then comes the registration of the company, and suddenly everything gets serious. Given the proliferation of stories of founders getting ousted without a cent to their name (Noah Glass, anyone?), legal agreements can be a matter of life and death – or millions of dollars. For this reason, many well-meaning old-timers strongly suggest that founders get a startup lawyer in to settle all legal matters right from the start.
Of course, if you're a fresh-faced entrepreneur right out from college, the millions are probably the last thing from your mind. Just the idea of starting a company probably seems incredible enough to hold your full attention, let alone putting in a few thousand dollars to bring in a legal professional.
According to Daniel Leong, founder and CEO of legal web service LawCanvas, the market rate for a standard website terms of service stands at about S$3,000 (US$2,400). That might not seem like much to most, but when you're a fledgling graduate without a penny in your pocket and tons of debt, you'll definitely think twice about spending your limited funds on what might seem like luxury.
Enter LawCanvas, the web service that wants to save nascent entrepreneurs thousands of dollars when they most need it. It does this by helping small businesses create legal documents quickly and easily by providing a library of free legal templates tailored for Singapore, with a smart editor that they claim makes editing clauses a cinch.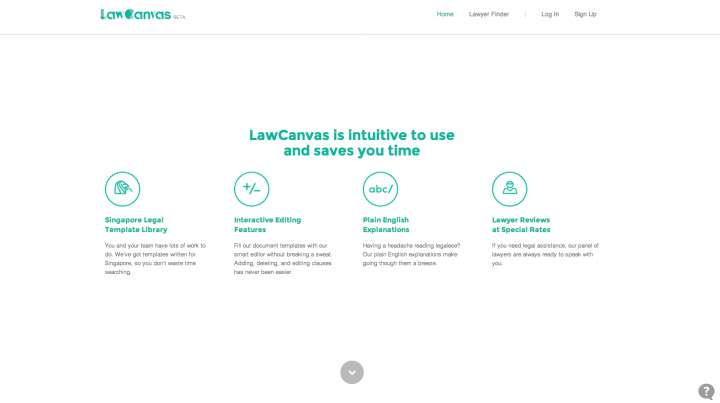 Their library currently includes six types of important documents: non-disclosure agreements, employee agreements, founders agreement, advisor agreement, website terms of services, and website privacy policy. "The most popular documents on our platform right now are 'everyday' business documents like non-disclosure agreements and employment letters," Leong says.
Beyond these templates, he adds that the team has been seeing some demand and interest in other niche areas, such as investment documents. "We're looking to include them when we expand our document library in the near future."
See: Singapore startups, use these open-source investment templates, save yourselves from grief
Forget DIY
Founders would ask: why not do it myself instead? But actually getting down to sourcing closest competitors, finding their documents, and copying and pasting details to fit their situation is a maddeningly tedious process, according to Leong.
"The issue is that you can often spend five to six hours working on this in one go, and you're not even sure if what you're doing is correct," he explains. "It's frustrating and tedious, and we'd much rather be working on our businesses." Copying overseas competitors would often yield the additional problem of applicability to the local market, Leong adds.
To date, hundreds of small businesses have used the web service, and the feedback has been generally positive. "LawCanvas has been live for about three months now, since May 2014, [and there has been] a steady stream of new users coming in everyday," Leong enthuses. This is rather impressive, given that the team has not done any marketing for now – growth has come about largely through word-of-mouth.
He also adds that the team has gotten a lot of attention and demand from companies in neighboring countries, whom they met at the recent Startup Asia Singapore 2014 event – regional expansion could be on the cards. "The prospect of being able to serve them is really exciting, and we'd be happy to talk to anyone who can help us to expand LawCanvas regionally."
Doubt from the legal community
It hasn't entirely been a bed of roses for the LawCanvas team, though. Leong says that the service has received its fair share of doubt from the legal community, who say that they are attempting to "replace lawyers with technology" or "disrupt the legal market". It might even eliminate the need for startup lawyers altogether. He is quick to emphasize at length that this is far from the truth:
There is an entire segment of people who would never go to lawyers mainly because of the prohibitive costs, and they would much rather spend the weekend cutting and pasting from overseas templates. Even so, it's time that could have been better spent on their businesses instead. With LawCanvas, we are simply creating an avenue for them to help themselves. Historically, legal documents have been very unapproachable to most people and we are trying to make them more accessible to the common man. When people start to get more familiar with basic concepts through our platform […] then they would be more open towards engaging a professional to review their documents later on. In that sense, we are helping to open up this whole new market segment for everyone.
That being said, he admits that the team isn't legally trained – Leong's background is in accounting, while his partner Mark Png is a tech guy. However, they are plugging that gap by forming working relationships with several law firms, and bringing on an experienced advisor in the form of Chin Hooi Yen, who is the founder and director of Polaris Law Corporation, and has over 14 years of experience in corporate law.
According to Leong, the team is now working on building up their document library and adding on complementary software features that would greatly enhance the user experience. These premium features would be their source of revenue, and will be released at a later date.
The team received funding from the MDA iJAM program and Crystal Horse Investments earlier this year. Now, they're gunning for their next round of funding to further product development.