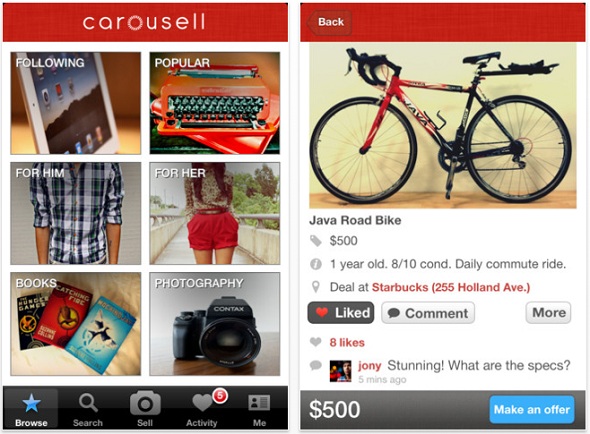 Investors and seasoned entrepreneurs seem to have reached a consensus: A mobile app that makes buying and selling second-hand stuff easy has massive potential.
Evidence? ShopSpot, which is such an app, had accepted an investment offer from SingTel Innov8 and completed a seed funding round from a group of Thai investors. Another team, Snapsell, won Startup Weekend Singapore on the back of strong endorsement from the judges.
Now, that team has finally launched their app, Carousell, for the iPhone. Like ShopSpot, it lets users upload photos of their items along with a description and price. It incorporates social features as well, such as liking, sharing, and commenting on an item. User can choose to follow sellers they like, and enter into private chat sessions within the app to discuss details of a transaction.
Founded by National University of Singapore (NUS) students and alumni Quek Siu Rui, Marcus Tan, and Lucas Ngoo, Carousell has been in private beta since July 2012 with 100 users.
They have received support from their alma mater through NUS Enterprise, getting SGD7,000 (USD5,600) from the Innovation Practicum grant and hot-desks at co-working space Plug-in@Blk71. They also participated in the Test-Bed program, which gives the startup access to a market of 45,000 NUS staff and students.
The group was also part of the university's NUS Overseas Colleges (NOC) program, which they credit for giving them the entrepreneurial bug.
For now, Carousell is aiming to build user traction before formally seeking further funding.
The rise of startups like Carousell and Shopspot is encouraging. The act of buying and selling second-hand goods has environmental benefit, since purchasing used items reduces the need to consume natural resources.
These companies complement the efforts of startups like Rent Tycoons and The Sharing Engine, which are attempting to develop a peer-to-peer rental marketplace in Asia. Similarly, peer-to-peer rentals have the effect of giving renters and rentees monetary benefits while reducing environmental impact at the same time.