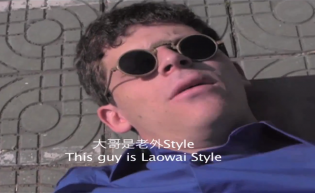 Last Friday we brought you an assortment of alternative interpretations of PSY's 'Gangnam Style.' Well, here's another one that's could have easily made that list. It's from a very creative American living in Beijing, and its called 'Laowai Style.'
This may very well be my favorite laowai/foreigner performance since the days of the legendary Hong Laowai. At first I thought it might be John Pasden in some bad sunglasses, but a little Googling tells me that this is Fullbright Scholar Jesse Appell who has recently come to Beijing to undertake a sort of China comedy research project. He's certainly off to a good start.
I also stumbled across his excellent Who's on First routine, which I recommend you check out as well.
You can watch the 'Laowai Style' video below and let us know what you think. For readers in China, there's a Youku version of the video here.