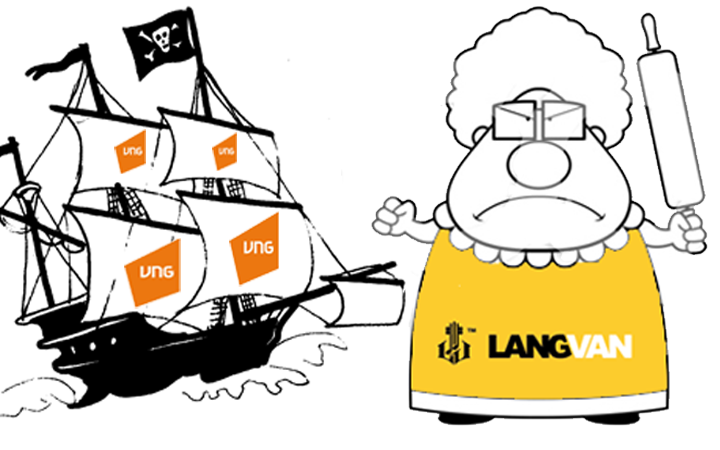 The biggest lawsuit against a Vietnamese tech company ever is now going down in Boston, Massachusetts. The American record company Lang Van just filed against venture capital firm IDG in an attempt to get at VNG, which is a major consumer web and mobile company in Vietnam.
VNG has faced many lawsuits in the past already. According to Lang Van's press release, Zing, VNG's major social media and music platform, has faced up to 590 infringement cases. But this latest lawsuit is notable because it is being filed in the States. VNG, and its venture capitalist firm IDG Ventures Vietnam, are going to have to legally defend themselves there. It will not be protected by Vietnam's still evolving copyright laws.
Key details on the three companies
Lang Van: The Vietnamese-American record company, which claims to be the world's largest repository of Vietnamese music, has been in operation since 1985. It is a family-owned business based in Westminster, California. For those not in the know, that's where Little Saigon is – the area with the largest concentration of Vietnamese Americans in the world.
Lang Van has rights to over 12,000 recordings, 6,000 music videos, and 22 sub-labels. This includes Vietnamese-American and Vietnamese music. Lang Van claims that users on VNG's Zing Mp3 music portal have viewed Lang Van's content over 250 million times. One source in the music industry stated that "Lang Van's content is very old but if they win it will set a very loud tone for the local industry."
Most of Lang Van's revenues come from compact disc and DVD sales, and the company has five main outlets in Vietnamese Overseas communities across the world. It's arguable that Lang Van is still trying to catch up to the digital world and this lawsuit is a clear indicator of that.
VNG: VNG is Vietnam's largest consumer tech company and started in 2004. Its name formerly meant VinaGame, and it is Vietnam's most successful gaming company, posting more than $90 million in revenue in 2012.
According to Le Hong Minh, CEO of VNG, "back in 2006, 90 percent of revenue [came] from one game". That game is Vo Lam Truyen Ky, which VNG licensed from Chinese gaming company, Kingsoft.
Since 2006 though, VNG has aggressively pushed into multiple categories of Vietnam's online space. This includes categories like e-commerce, social media, online media, and online music. But Minh claims that VNG's number one game still accounts for 20 percent of revenue today. Nonetheless, VNG's influence over the ecosystem is pronounced. Mid-last year the company had over 20 million users on its social media platform, Zing.
This current copyright lawsuit is not new for VNG. Most recently, local Vietnamese newspapers sued VNG's news aggregator (a Flipboard-like app), Bao Moi, in March last year.
Also, a group of internet companies banded together last year to form a consortium called Sky Music to battle VNG and its claims to copyrighted music in Vietnam.
Coca-Cola and Samsung also pulled out of advertising on Zing when they discovered that VNG was pirating software. In other words, the Lang Van lawsuit is likely the straw that broke the camel's back.
IDG Ventures Vietnam: The main body that invested into VNG is IDG Ventures Vietnam, not to be confused with IDG, which is the parent company. IDG Ventures Vietnam secured a fund of $100 million to invest in over 40 companies mainly in the technology, media, telecom, and communication spaces.
It was founded in 2004 and its main limited partner is IDG. IDG Ventures Vietnam invested into VNG, and also helped to form the founding team in 2005. At that time, the investment was the largest for IDG Ventures Vietnam yet. Since that time, IDG has exited VNG and does not have a controlling interest in the company any longer, although Minh does continue interaction with the IDG Ventures Vietnam team from time to time.
The mechanics of the case
Lang Van is sueing IDG. That is why the lawsuit is happening in Boston, which is where IDG's headquarters are. Basically it's sueing IDG to get to IDG Ventures Vietnam to get to VNG. What is mind boggling though is how much Lang Van plans to sue VNG for. According to Mimi Nguyen:
The number of infringements is actually a little over 3000 recordings and 600 albums as alleged in the complaint. And yes, we are seeking the maximum statutory damages of $150,000 per infringement.
In other words, if you do the math, this could amount to over $450 million. For perspective, VNG is rumored to be worth anywhere between $300 million and $400 million. In other words, if this lawsuit ruled totally in favor of Lang Van, it would completely obliterate VNG.
Le Hong Minh did not want to comment at length on the lawsuit, but he did tell me this:
In regards to the content direction, we are already the largest music/video IP holders in Vietnam covering 95 percent of Vietnamese music and have already signed deals with other foreign right holders.
That being said, Lang Van does have a solid claim to its case. The main reason for this is the music on Mp3 Zing is hosted on VNG's servers. It's not a peer-to-peer service like Napster, where the users are the ones hosting the music.
Payment is the crux of the issue
Currently, Mp3 Zing is one of Vietnam's top online music sites. It has a major influence on Vietnamese internet consumers. Most Vietnamese netizens will go to the page to download mp3s into their USB or computer for listening. If you want to get music online in Vietnam, Mp3 Zing is the most comprehensive source.
At the core, this is a payment problem. Unlike the USA, where iTunes, Spotify, and others have slowly etched out a massive userbase and profitable business models, there are very few ways for Vietnamese users to access paid music. This is how Pops Worldwide has made an interesting business model out of Vietnamese music by allowing users to buy ringtones through their system.
According to Mimi, Lang Van has already privately approached VNG about the issue, but they did not take any action. Lang Van says their music catalog is widely available on services like iTunes, Amazon, Spotify, Beats, and Google Play, but Vietnamese users generally don't use any of these services. They don't have credit cards to access these services, which do not target Vietnam. Spotify and Beats don't even operate in Vietnam at all.
That's exactly why companies like Appota and Soha are so successful in creating third party app store for users to access content and apps. Mimi thinks that the millions of users on Zing's platform would go to the other platforms.
This will become even more of an issue as Mimi has stated that Lang Van is "actively looking to see if other companies are illegally sharing content." If Lang Van were to be successful in each lawsuit filed against every online music distributor, would they fatally disrupt how Vietnamese users get music online?
(Editing by Terence Lee)