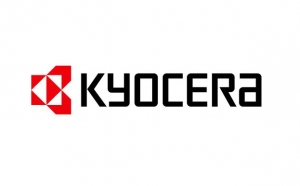 When we visited Kyocera at CEATEC Japan last week, we had a chance to try out the company's 'New Feeling Touch Panel.' It's a haptic feedback touchscreen that makes pressing a flat surface feel like pushing a regular button.
The demonstration included a variety of buttons, such as a jelly type, clickable, or buzzer style buttons. The buttons can also be assigned levels of depths, meaning that you could do a half push or a full push with two assigned levels. In the demo we saw (see video below) we got to try seven levels of depth, which was amazingly cool.
According to Kyocera, this new touch panel "uses vibration to excite the nerves in the finger to illicit a quasi tactile feeling." The screen uses a piezoelectric element to create this tactile feeling.
Of course, one of the current knocks against many of today's touchscreen devices is that they lack a tactile feeling. My personal pet peeve is the virtual keyboard on an iPad, which I find tricky to use. Whether or not a technology like this could actually improve that experience is not clear to me, but I have my fingers crossed that someday it might
For more information, check out Kyocera's release below.