Being a mother (or father) in China is not an easy thing these days. Numerous scandals involving everything from milk powder to clothing and toys have led many parents to believe Chinese products just aren't safe. But importing products is expensive and moreover impractical for the average parent, and that's where brand-new Chinese startup Kumami steps in. It's a flash sales platform that offers children's products imported from the US and Europe at discounted prices (the name, fittingly, means "Cool Mommy"). It's a pretty cool idea and the site looks quite slick, so we got in touch with Kumami Founder and CEO Shaun McWhortor to see what more we could learn about the service.
How did you get the idea for Kumami?
Prior to Kumami.cn, we had a small social network startup for Chinese moms called maozhao.com. We spoke to lots of moms to understand what kind of products they wanted and problems they faced. In doing so, we realized how concerned mothers in China are about the quality of local products for their kids. There are so many product scares and recalls that it really makes you skeptical about buying anything your child can eat, play with or even wear. This is why you find lots of moms in China buying items like milk powder, baby food and gear overseas in Hong Kong, the USA, Holland and other countries.
What we learned is that most mothers in China associate overseas brands with trust and higher quality. Even if overseas brands are manufactured in China, they are typically held to higher production standards. This insight, coupled with a steady increase in the amount of money families are willing to spend on their children and the strength of the Yuan, lead us to pivot our business to focus on offering unique high quality baby and kids products from the USA and Europe.
How has the reception been? Are there any numbers you can share with us?
The reception so far has been extremely positive. Many moms have told us they really enjoy the serendipity of finding cool and unique products through Kumami.cn as opposed to the standard traditional e-commerce experience. Normally, shopping online is a task, but kumami.cn introduces fun and surprise into the shopping experience.
As far as numbers, it's really been beyond our expectations. We just launched the site two weeks ago and with almost no marketing, over 5,000 moms have visited the site with more than 500 registering to receive our daily sales events emails.
Why flash sales rather than a more traditional e-commerce setup?
From the beginning, we didn't want to compete with traditional e-commerce companies like Redbaby or Taobao. Those companies are extremely well established and do a good job of supplying daily necessities. But we wanted to differentiate ourselves and offer cool products with a unique shopping experience. The flash sales model allows us to create a fun and serendipitous shopping experience by handpicking high quality unique products that are unavailable or hard to find in China. The other benefit of using a flash sales model is that it allows us to buy in bulk in order to reduce costs and pass those savings along to the customer.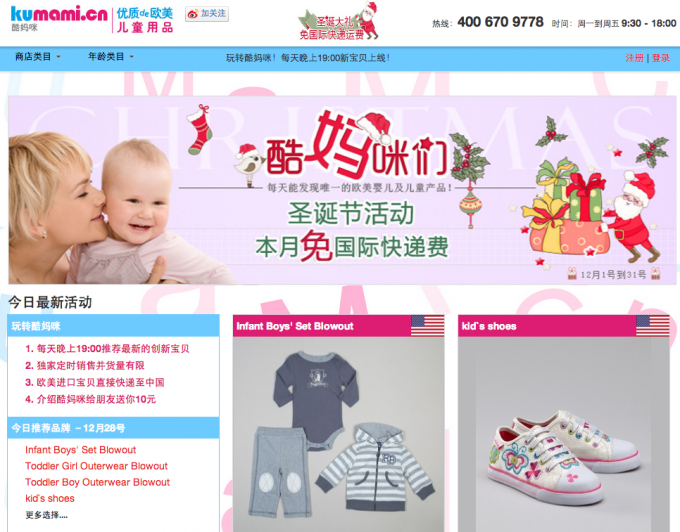 What is the plan going forward?
We believe our success lies in our ability to continue to source really unique products and great deals for mothers. So our plan is to continue to grow our team, improve our inventory and logistics capabilities and build relationships with brands we love. From a technology perspective, our next project will be to develop a mobile app to complement our website for those mothers on the go.
How have you found China, and Shanghai specifically, as an environment to do a startup? Would you recommend it to other entrepreneurs?
Wow, that's a tough question. Being an entrepreneur anywhere in China is a huge challenge no matter which city you're located in. However, I believe Shanghai can be a great city to start a business because you have a large talent pool, great logistics infrastructure and a fast growing community of tech companies and venture capital firms. That being said, even the smallest of issues can be major stumbling blocks when doing business in China.
The Chinese tech environment is super competitive with both large entrenched companies and small startups that often copy the latest and most popular business models at frightening speed. So you need to be sure to build unique capabilities into your business that are hard to copy.
Finding good people is really difficult. The competition is fierce and there are lots of choices for talented people in Shanghai. So, you have to continue to motivate your team with non-monetary incentives in order to stop them from jumping ship for higher potential salaries elsewhere.
Also, the cost of doing business is often much higher than people expect. After calculating staff salaries, tax and social benefits into your monthly burn, most people are surprised at how expensive staff and office costs can be.
Lastly, administrative tasks that may be quick and easy in other countries can often be lengthy and expensive processes in China. Items like company registration can cost thousands of dollars and require several months depending on the approach you use and the type of company structure you choose. Even things like renting a server, applying for an ICP license and integrating payment platforms can be complicated processes and take a long time.
Ultimately, for anyone who's considering starting up a business in Shanghai, I would recommend it. The best advice I can offer to people considering to take the plunge is to make sure you have a strong local network of friends, family and advisors who've got experience starting a business in China before jumping in. You'll need to leverage all those relationships in order to help you navigate the waters successfully.
What else do you want our readers to know about Kumami?
For all the interested mothers out there, as a launch promotion we are offering free overseas shipping which we will be extending until Chinese New Year.
From an investment perspective, we are now looking for a series A investment to help us grow our team, support marketing efforts and improve our inventory and logistics capabilities.