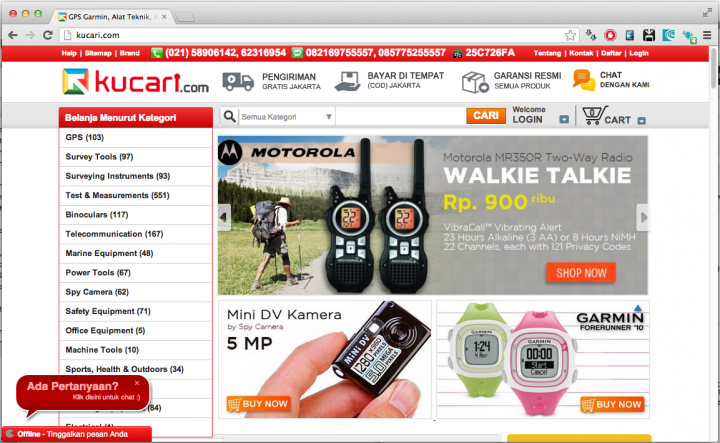 With the Indonesian C2C market crowded with big players like Kaskus, Tokobagus, Tokopedia and Rakuten, it may be rare for us to see it's cousin, the B2B e-commerce in public. One that caught our attention today is Kucari, an Indonesian B2B e-commerce site that recently told us they are earning IDR 8 to 10 billion ($800,000 to $1,000,000) annually, or around $80,000 per month.
Having launched last year, Kucari is now serving 2,500 to 3,000 unique visitors and handling an average of 10 to 15 transactions daily. Kucari mainly sells industrial instruments like GPS, measurement tools, safety equipments targeted at mining companies, agricultural companies, farms, construction companies, etc. Currently they have around 1,500 of instruments. Much of their income actually comes from mining, oil and gas industries, as well as from construction companies. Their best selling products include GPS, surveying instruments and test measurement instruments. A quick surf to Alexa has revealed that Kucari ranks 2,383 in Indonesia, and 133,948 globally which is not bad for a site that does not primarily target general consumers.
Big Customers
Kucari boasts of having over 3,000 customers coming from state-owned enterprises like Badan Pertanahan Nasional (BPN), Bakosurtanal, BMKG and BAPETAN; private or public owned enterprises such as PT. Timah, PT. Inti, Surveyor Indonesia, PT. Antam, Sampoerna, Coca-Cola, Indosat, AXIS, TransTV; and local universities like Universitas Gajah Mada, Universitas Indonesia, Institut Teknologi Bandung (ITB), dan Institut Teknologi Sepuluh November (ITS). With that list of customers, it's no wonder that they're reaching revenue close to $1 million annually. For a company that just launched last year, this achievement is quite impressive.
100 percent Digital Marketing
Similar to C2C marketing that relies heavily on search engine optimization (SEO), Kucari also claims to have relied 100 percent on digital marketing, that includes: search engine optimization (SEO), online advertisements on several websites, forums, Google Adwords, emails, and social media.
Kucari told us that they are now focusing on increasing their product catalog and hope to reach 3,000 products before the end of the year. Kucari also hopes to open more branches in Kalimantan and Sumatera next year. Given Kucari's growth, it will interesting to see more players jumping into Indonesia's B2B e-commerce market.
(Update: We added the word "revenue" in title to clarify that the $80,000 figure is Kucari's revenue, not profit.)
(Editing by Enricko Lukman and Anh-Minh Do)